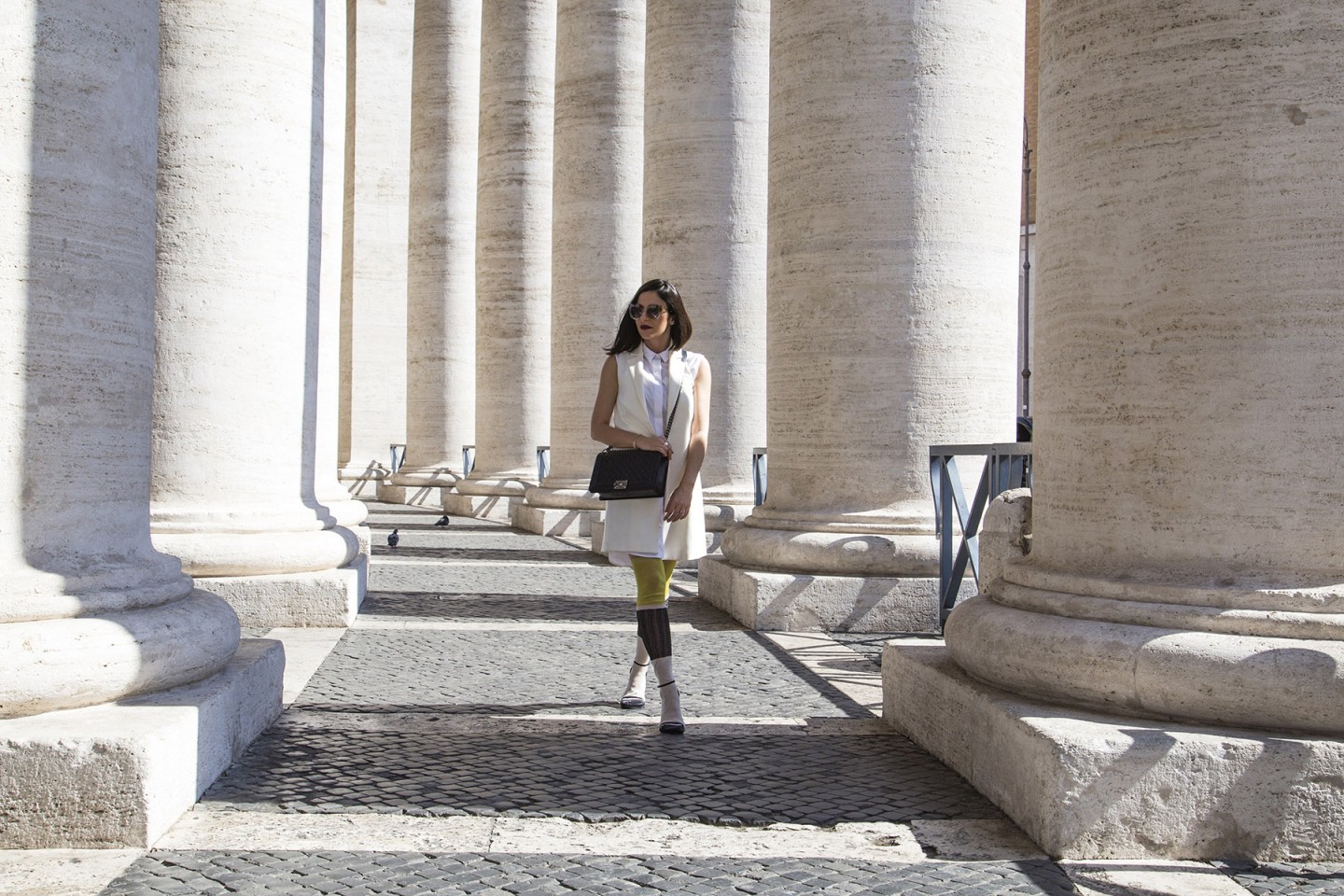 Socks and sandals have been generally considered as the biggest fashion faux pas of all time. So big that if you look up "fashion faux pas" in a dictionary, you will probably see a photo of sandals and socks. The British tabloid newspaper Daily Mail has mocked the football player David Beckham and the singer Justin Bieber, for wearing socks with sandals. And according to Brian Shea of The Evening Sun, wearing socks and sandals is popular among the older generation and Germans. Also socks and sandals were noted as a "high crime of fashion" when introduced as an Xbox Live player avatar accessory in 2009. And the list goes on…
As far as I'm concerned, this is just another one dumb fashion rule that was made for breaking! Besides, fashion rules always infuriated me. Imagine a fashion world where we could not wear (according to many dumb fashion rules) pink with red, white after Labor Day, mixed patterns, denim on denim etc. These rules must have been invented by boring people who want all of us to look equally boring and the same. And having a great style is all about being unique and different, and most importantly, interesting!
So is it ever ok to wear socks and sandals? You bet it is!
Celebrity fans of the look, include Sarah Jessica Parker, P Diddy, Kelly Osbourne, Jake Gyllenhaal, Alexa Chung, Vanessa Hudgens and even the ever stylish David Beckham. Still not convinced?
Beginning with the Men's Fashion Week Spring 2016 collections, which debuted last summer, a tide started turning among designers. Socks and sandals reigned supreme in Milan as the footwear of choice for Spring 2016 with the look tromping down many a runway including those of Versace and Bottega Veneta. Calvin Klein Collection and Marni among other luxury labels also showcased the socks-and-sandals pairing.
At New York Fashion Week Spring 2016, Robert Geller even took it a step further with toeless socks and mandals.
And there's even an official Twitter hashtag (#socksandsandals), where there is no shortage of footsy inspiration.
Having said that, there are some terrible ensembles of socks and sandals out there. Like there are other bad outfits and combinations that make no sense. That does not prove that socks and sandals are ugly in general. You just have to wear them with taste, just like anything else.
About my look:
I am rarely proud of my outfits but for this one, I am. It was not only a risky choice with the socks and sandals, but also a last minute dress-up in a super messy hotel room with a car waiting downstairs! I suppose that it was a risk worth taken as there were photographers asking me to pose for them while were outside. And it was not for the fashion police. I hope! What's more, we found an amazing vintage beetle car outside of a cathedral during a wedding, which was the perfect asset to photograph this look! I have a photo of the wedding below, cause otherwise you would not believe this photo shoot was not staged, and it really wasn't!
So what do you think about wearing socks and sandals? Have you? Would you? Is there any other dumb fashion rule that you just love breaking? Feel free to share it with us! I would love to hear about it in the comments section below!
Thank you so much for visiting. Wishing you a great rest of the week, and see you on Friday!
I was wearing:
Pinko vest (also similar here and more affordable option here and here)
Levis shirt dress (no longer available, similar here and here)
Chanel bag
Fendi sunglasses
Stuart Weitzman sandals
Alto socks (similar here and here)
Photos by: Anestis Iliadis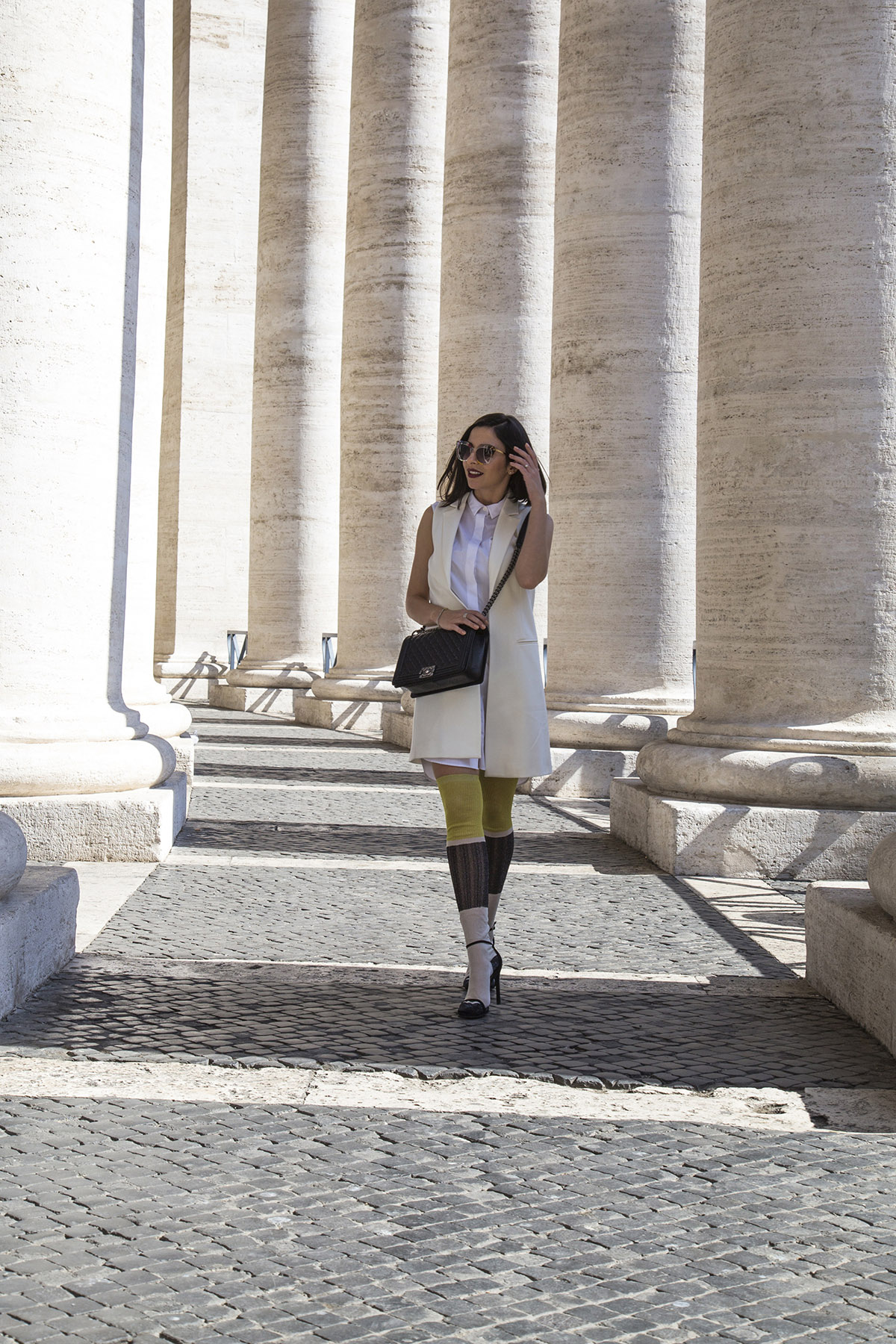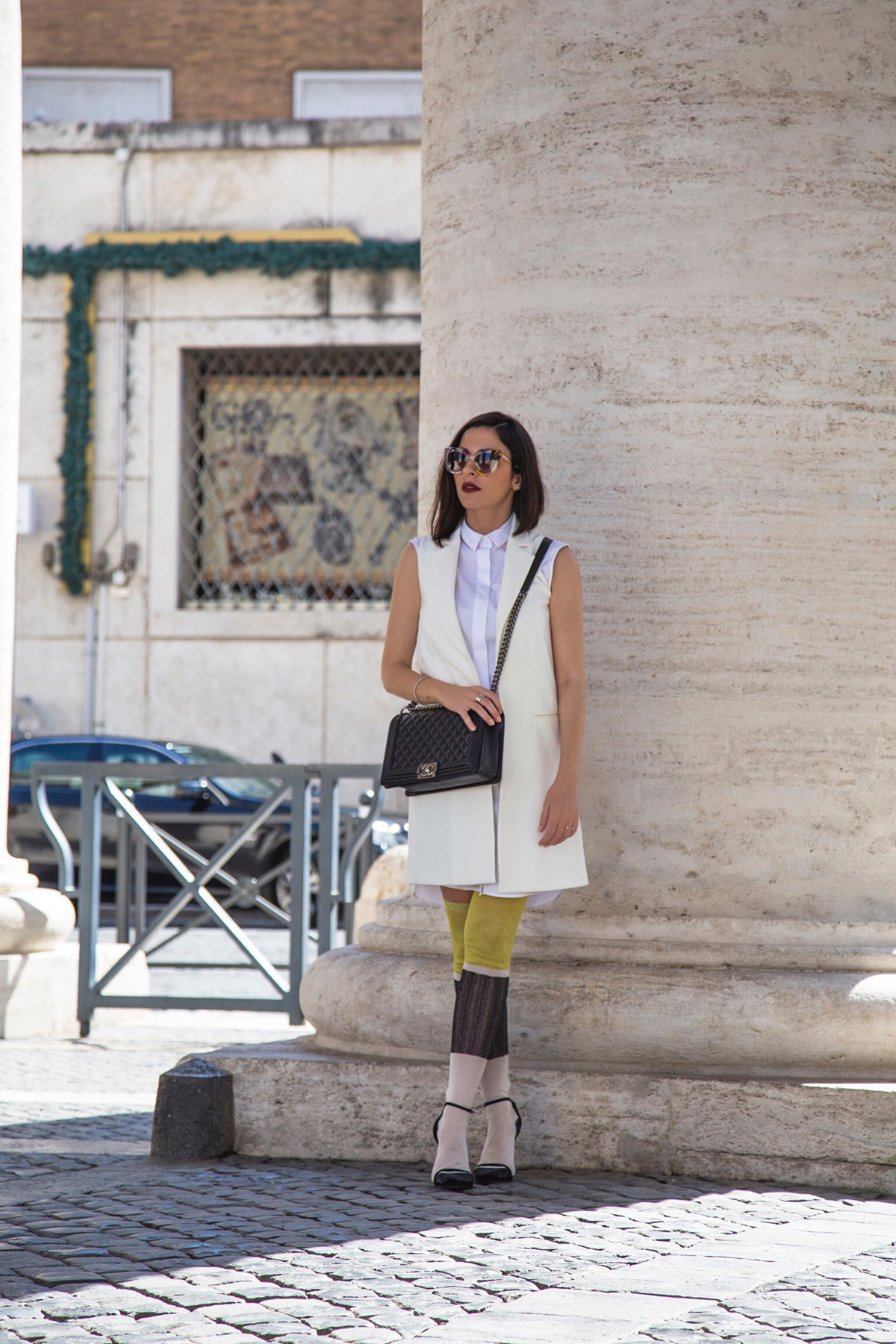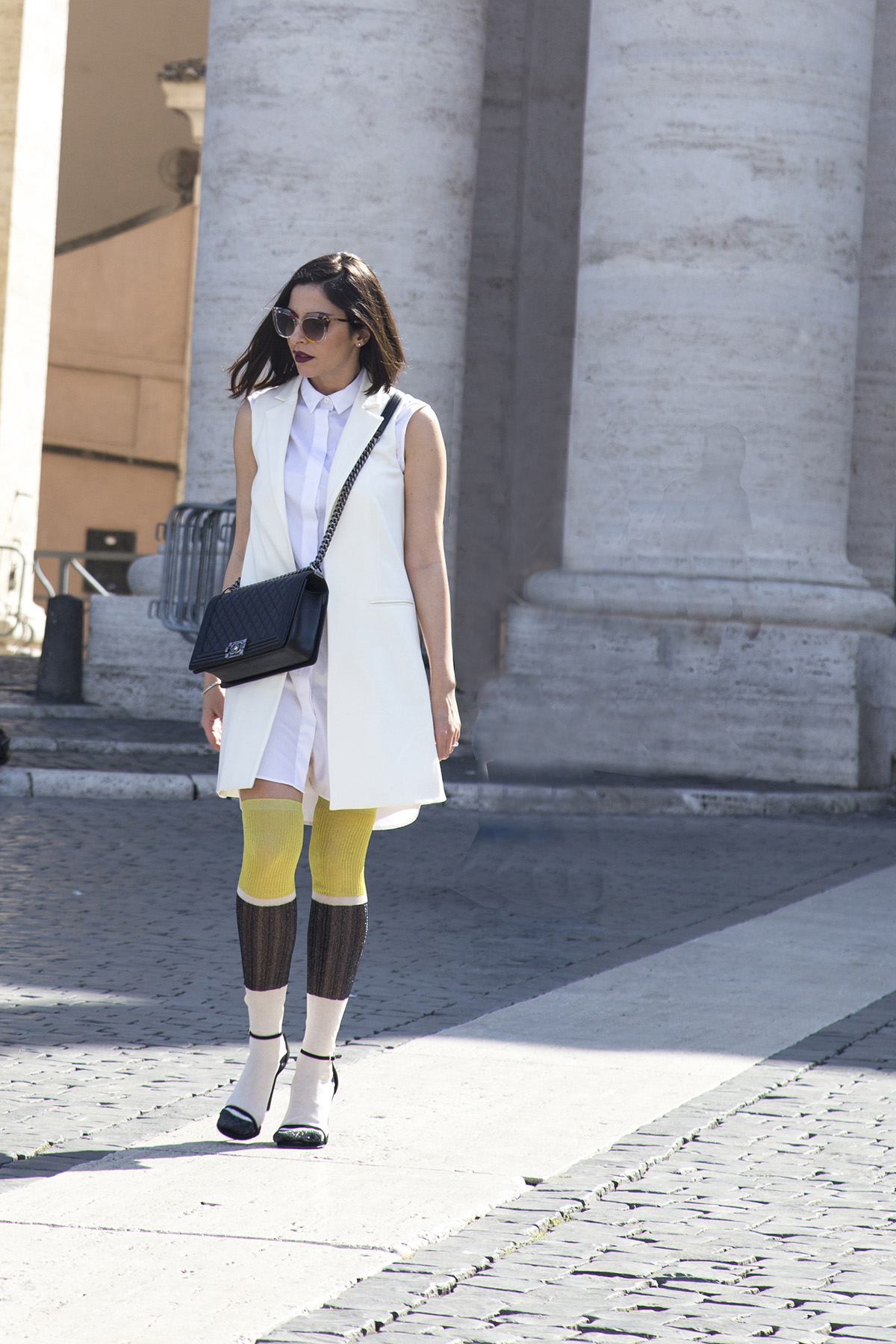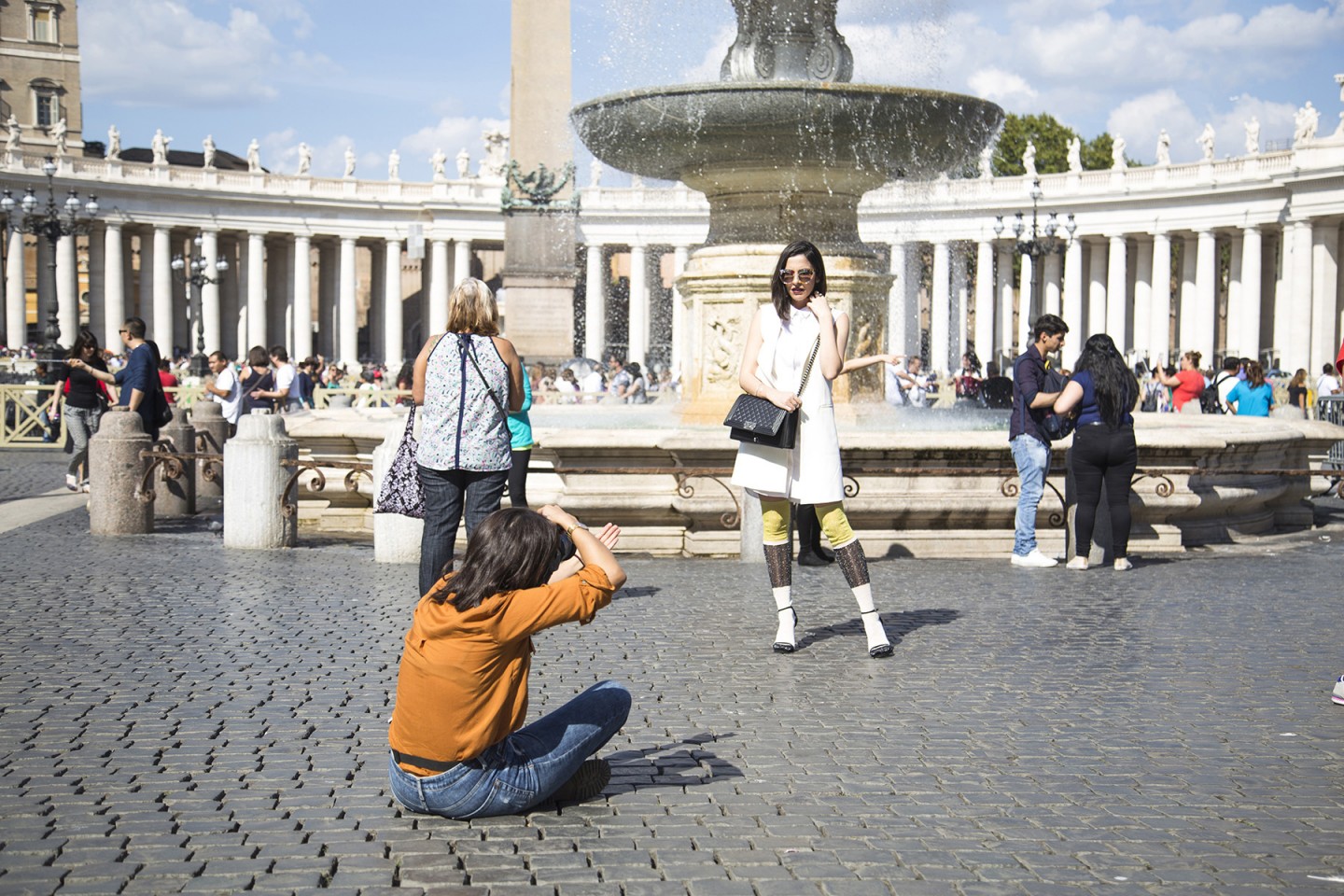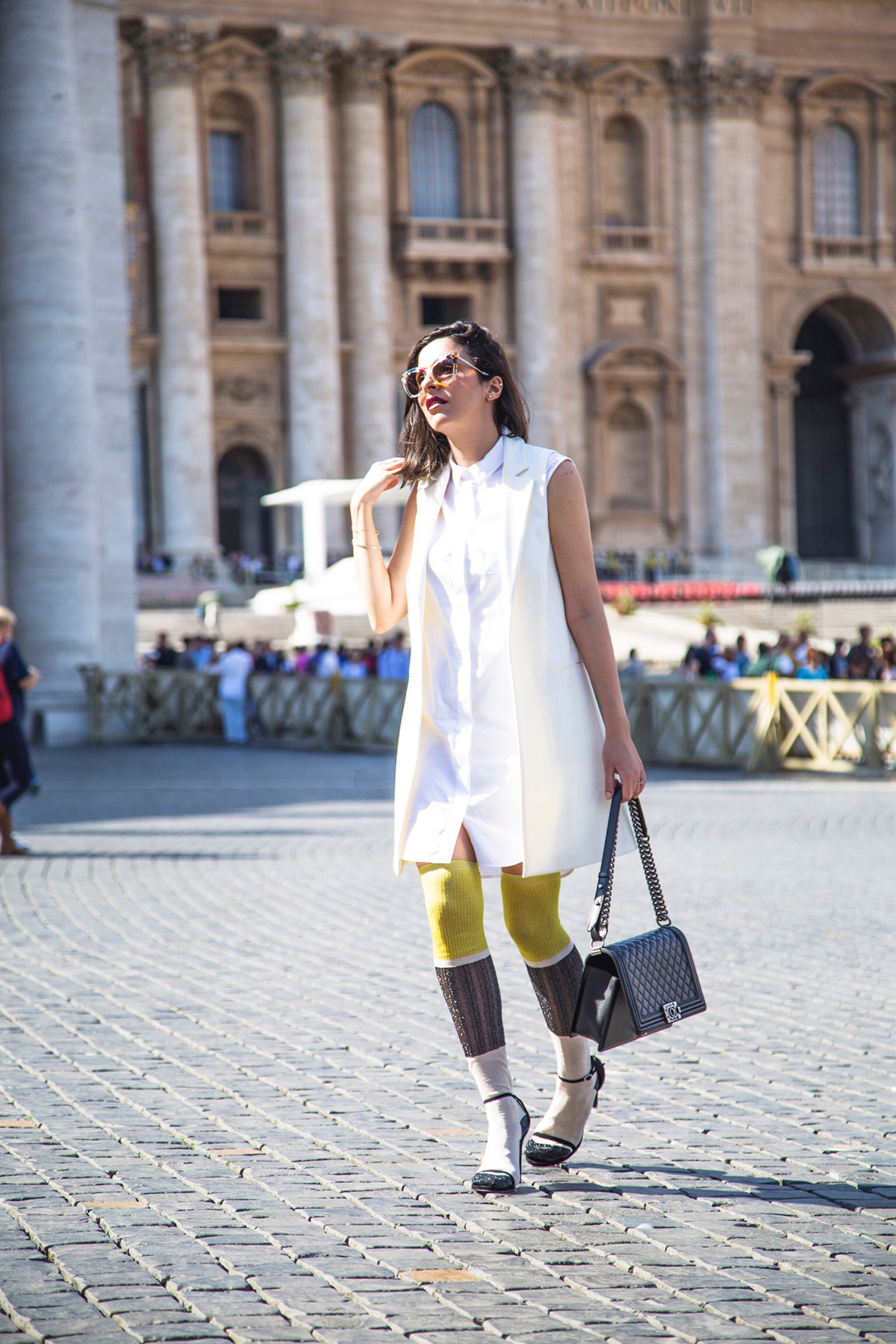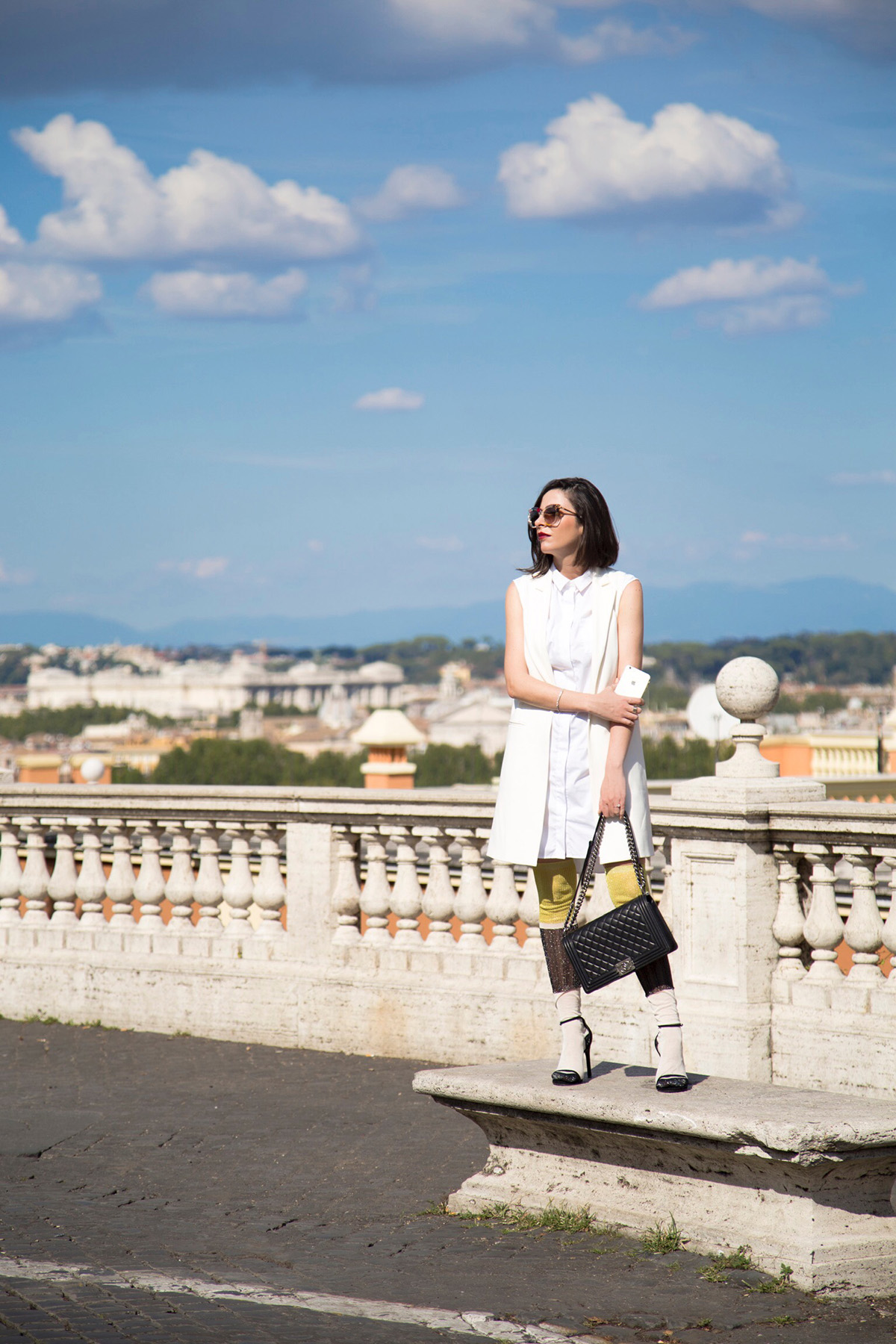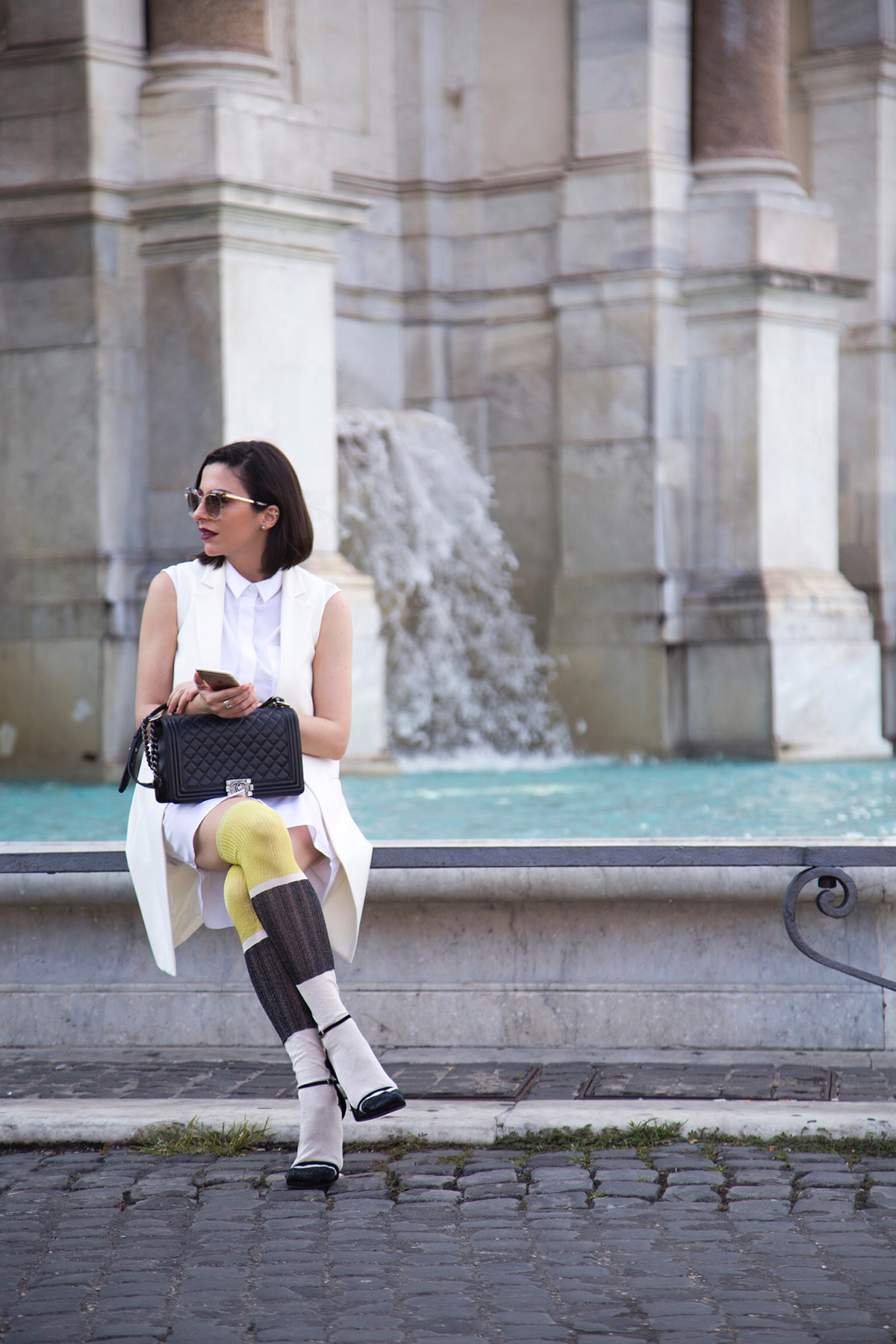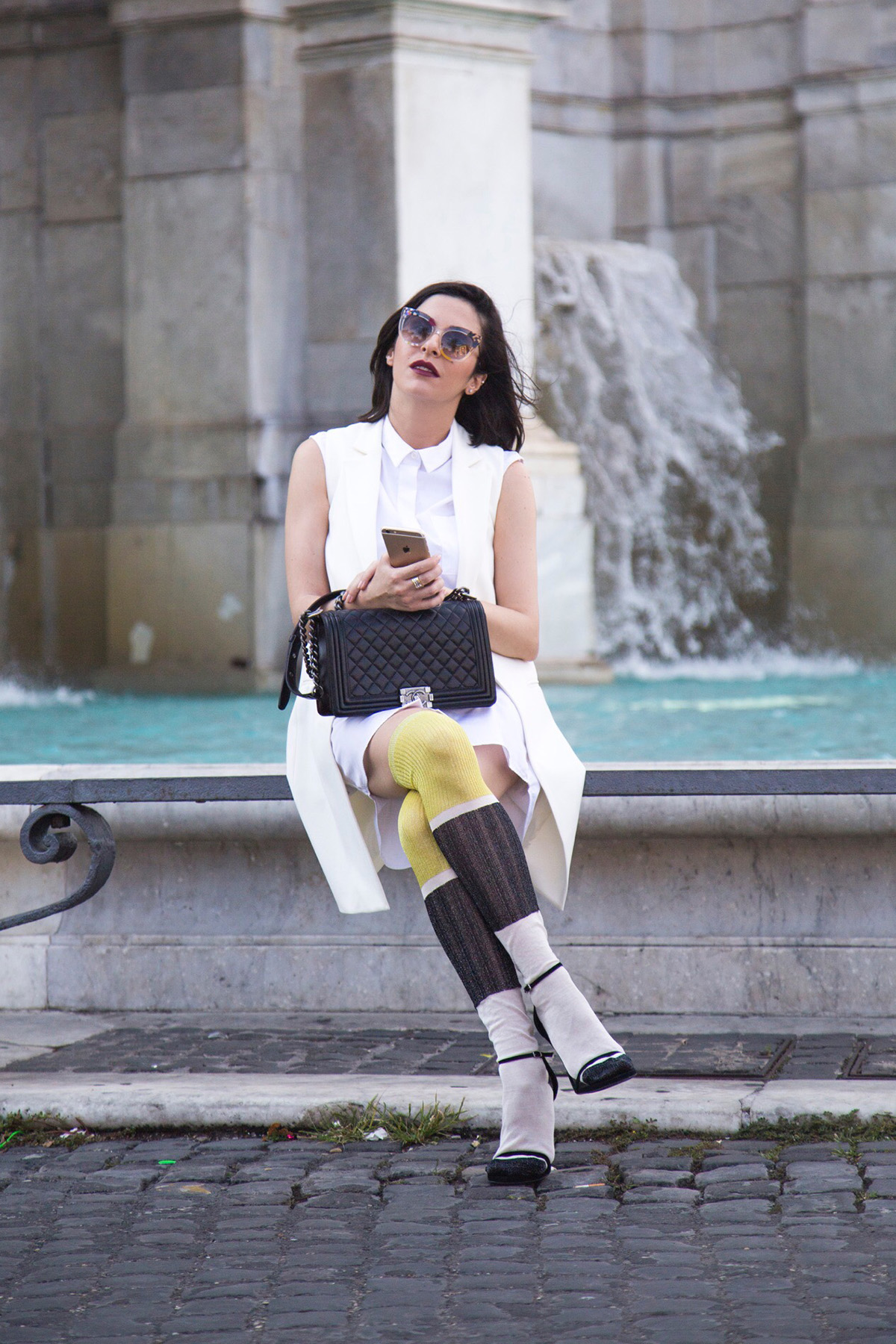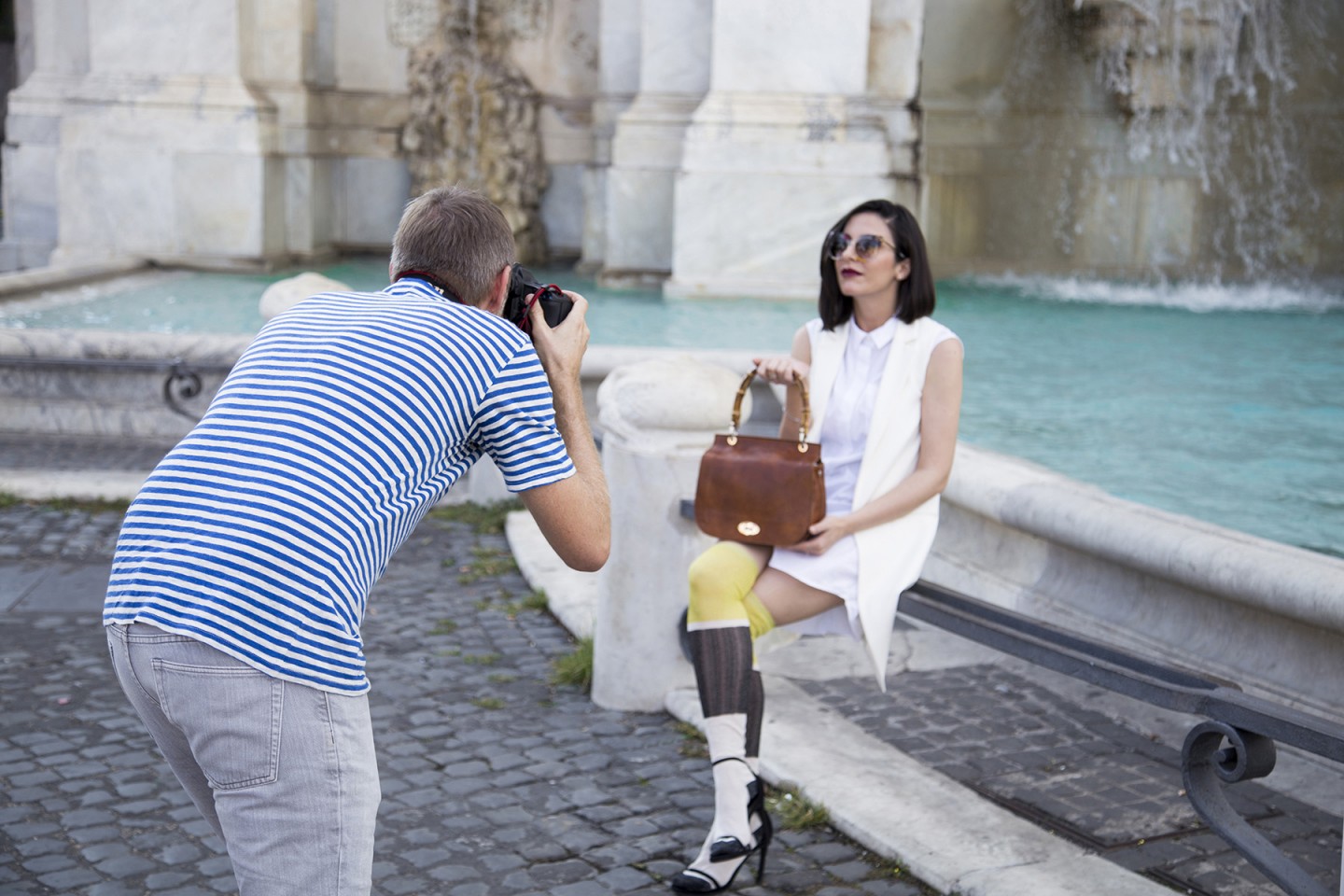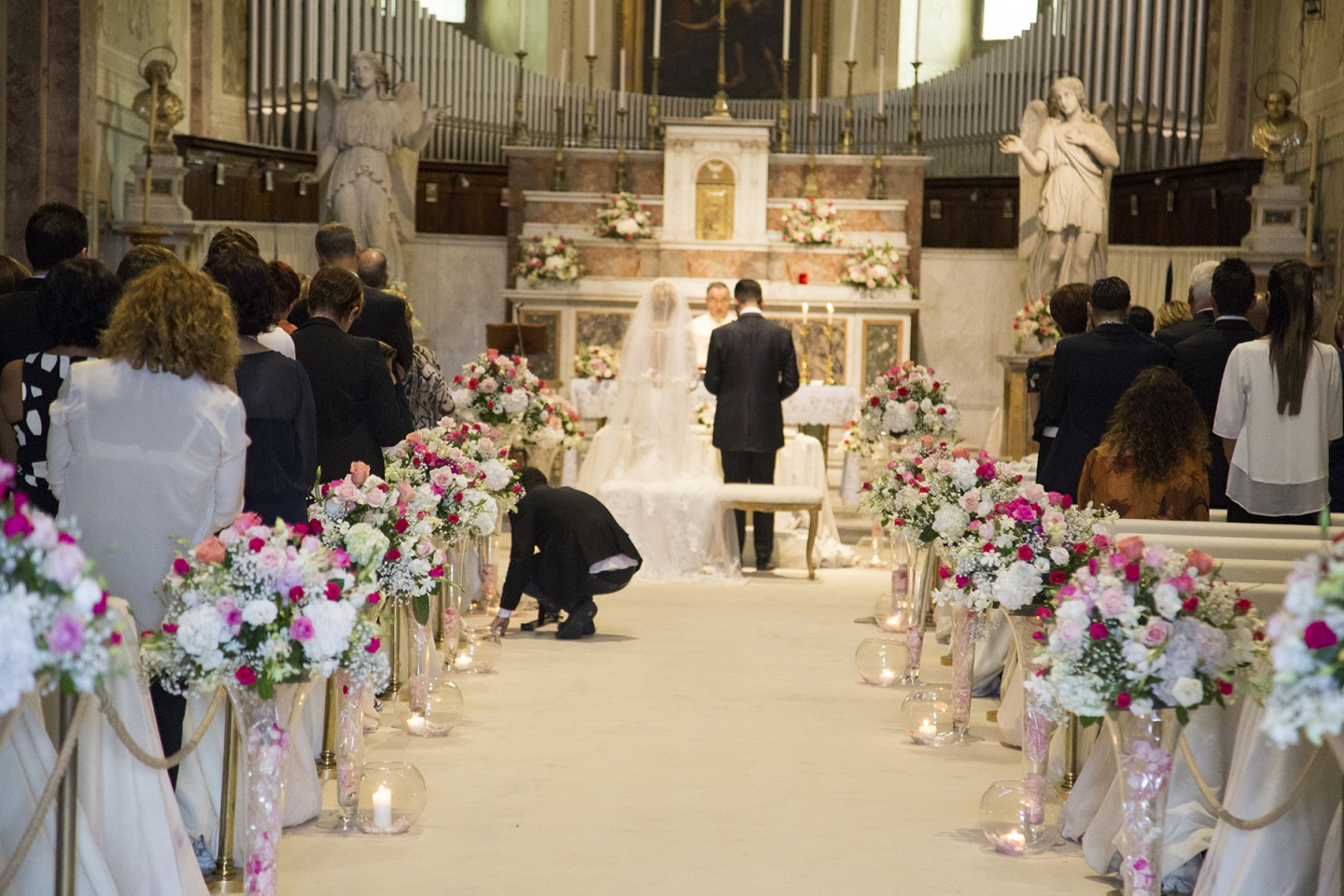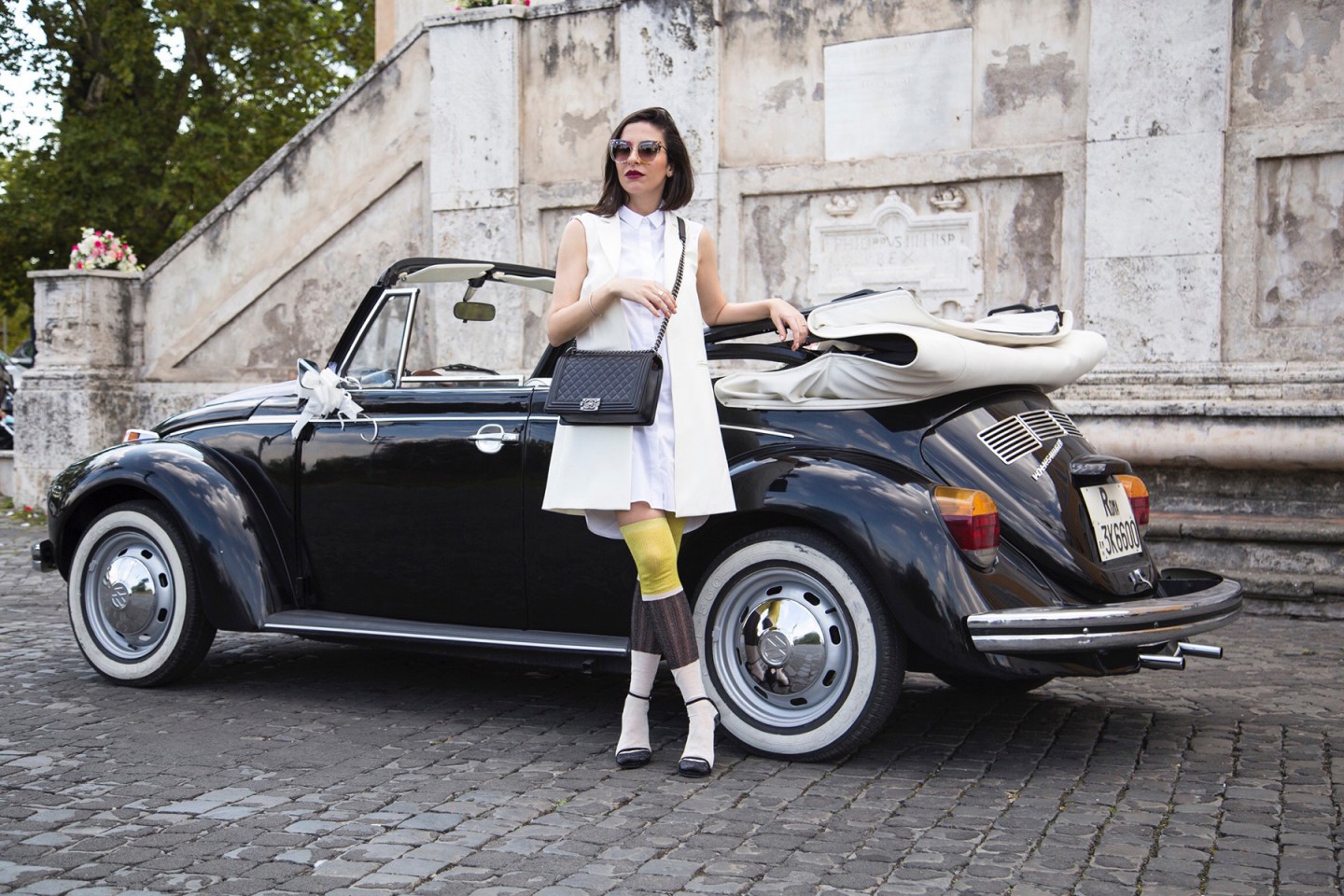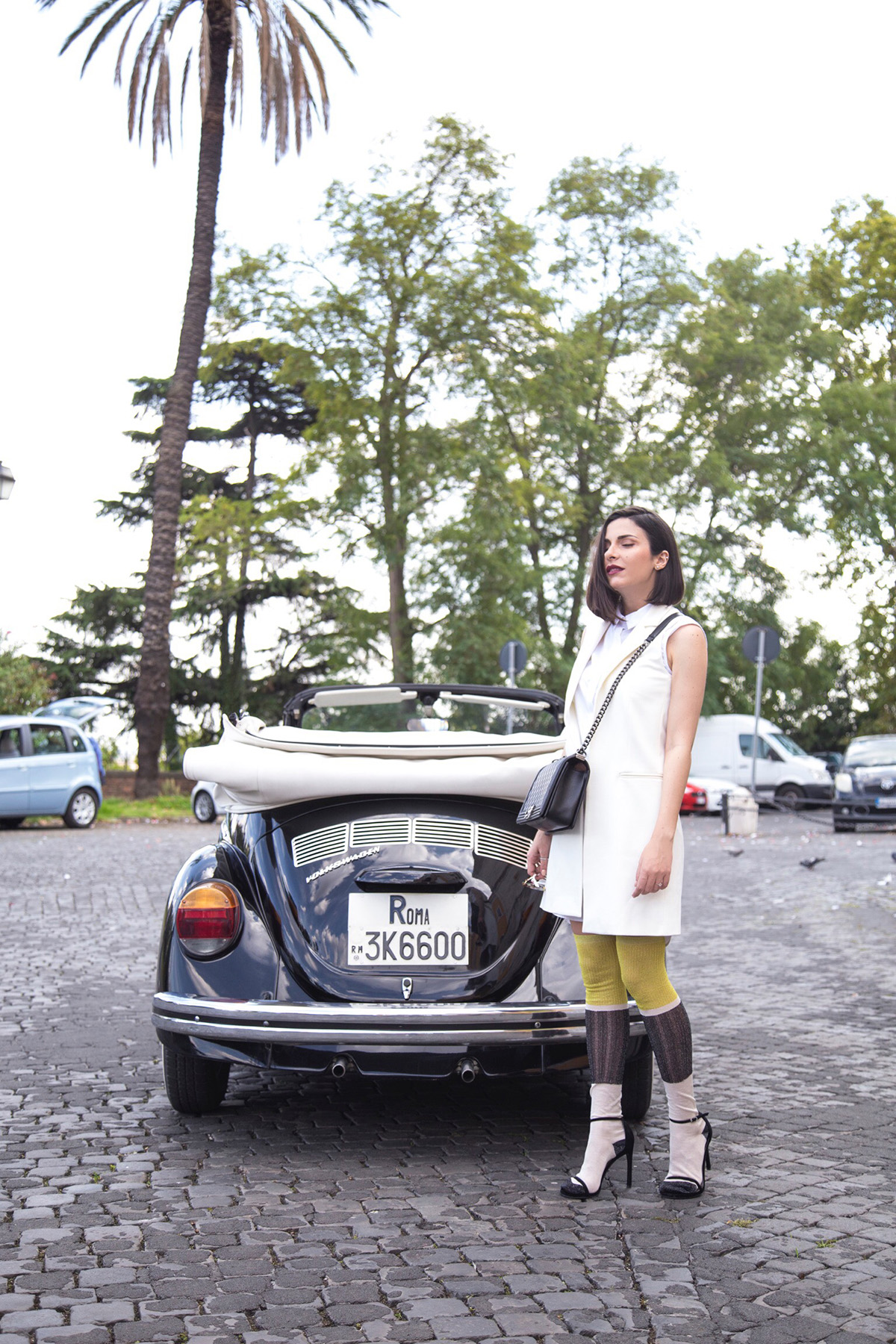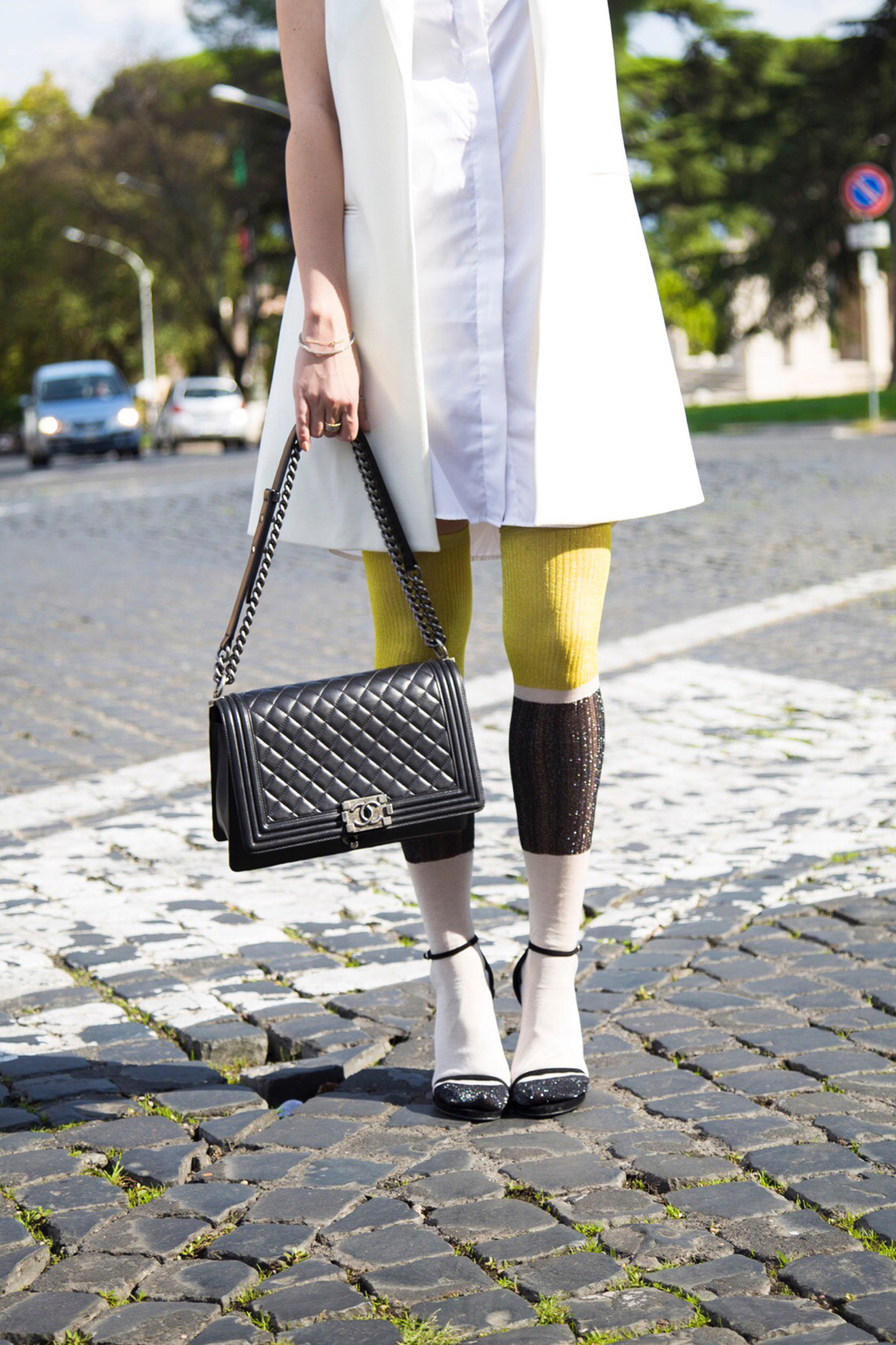 SHOP THE POST: