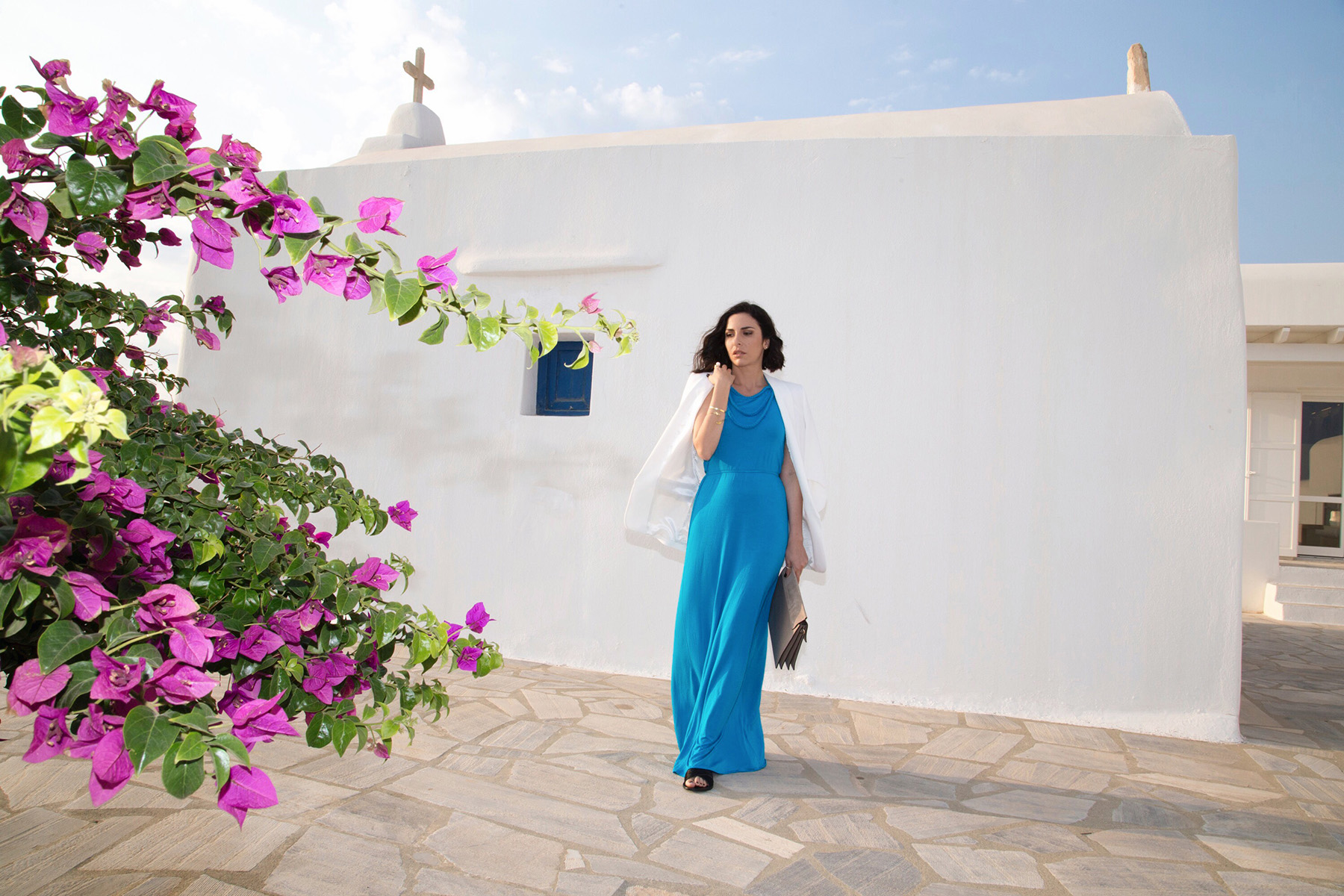 With summer drawing to an end, you never know which will be the last time you are wearing that favorite summer dress of yours, right? But the good news is that there's always a good excuse to do so! Today I can finally share with you my favorite Ilashan dress, designed by the talented Indira Lashan Moss.
First of all, the Bahamian-seas inspired color of that dress is perfect for summer, especially when you live or go for vacation to a sea side location. This rich, blue color looks different under different lighting conditions; in the same way the sea reflects the colors of the sky! Second, the unique braided details on the neckline, with the amazingly soft fabric and the backless halter top, make that dress the perfect summery statement, ideal both for daytime and evening. And the great news is that Melodie dress is also available in coral and red!
I styled my Ilashan dress by draping my favorite blazer on my shoulders, as I wore it for a goodbye dinner with clients who were leaving the next day! I always like to cover up for a business dinners and occasions that involve work in them. There is nothing like a good pair of sleeves and/or a collar, for keeping minds on business!
Tip: For an business dinner or any other similar occasion, look for an outfit that is dressy, but covers the same parts of your body that you cover at work.
I finished styling with my beloved Chloé Faye bag, black sliders and gold jewelry. What do you think? Is this something you would wear to dine with clients or business associates?
Do you also have a favorite dress that you wear as much as you can before summer ends? If you have a post or photos wearing it, please feel free to leave your link in the comments section below. I would love to check it out!
Thank you so much for reading, and I wish you a great month of September!
I was wearing:
Zara blazer
Ancient Greek Sandals slides
Chloé bag
Photos by: Anestis Iliadis