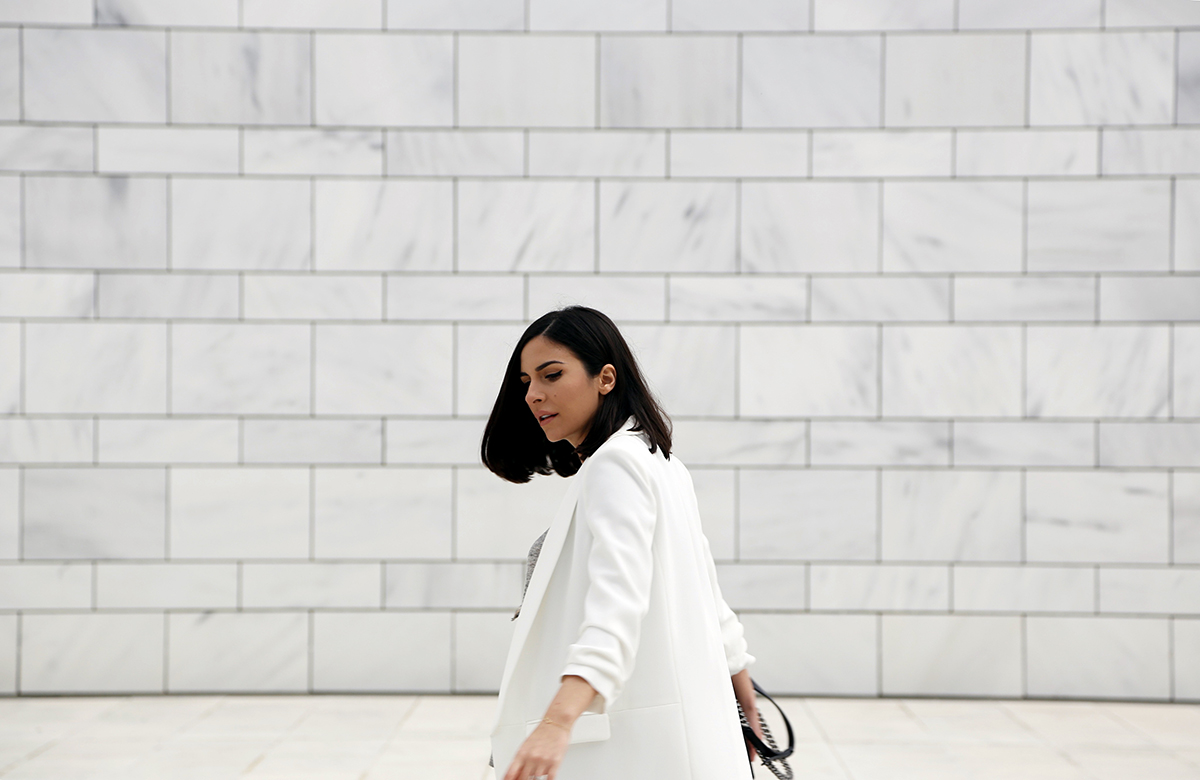 White blazer goes with everything and it's definitely a must-have wardrobe piece. And although we always buy more black ones, a white blazer is way more versatile.
Here's why: Black blazers don't usually go with other black garments such as pants and skirts unless they are part of a suit, while a white blazer can go with almost every outfit.
When I first saw this white blazer at Zara, I knew I had to make it mine! 🙂 I really like this turn-up sleeve detail which is stylish and saves me from the trouble fixing my sleeves every five minutes or so. It also has the perfect white and brightness! But most importantly, it fits great. The extra flared trousers where a love at first sight too!
How to choose the right (white) blazer:
A blazer as any other outerwear is the cornerstone of an outfit, so proper fitting is the key for picking up the right blazer. Make sure that the shoulder stops right at the end of your natural shoulder. I always like doing some adjustments to my clothes so that they fit perfectly, this is a huge alteration so be careful to buy a blazer that fits well through your shoulder at the first place. When it comes to a white blazer, try to find this shade that flatters your skin tone. With all these white and beige shades it will not be hard to find the best for you 🙂
I wore mine with a simple linen top in grey colour and these black wide leg pants to attend an early performance at Thessaloniki's Concert Hall, followed by late lunch with business pals. I find this look appropriate for many occasions and ideal for a day to night outfit!
So do you like wearing white blazers? Which one is your favorite right now?
Thank you so much for stopping by. Have a happy new week full of blessings!
Love,
Stella
I was wearing:
ZARA blazer
ZARA pants
H&M top
VALENTINO rockstud slingbacks
CHANEL bag
photos by: Anestis Iliadis