I consider myself blessed to be living almost half of the year, in one of the most beautiful islands in the world, Mykonos. I usually spend a minimum of five months here and I am more than happy to share my tips with you on what to wear in the Greek islands and more (feel free to ask)!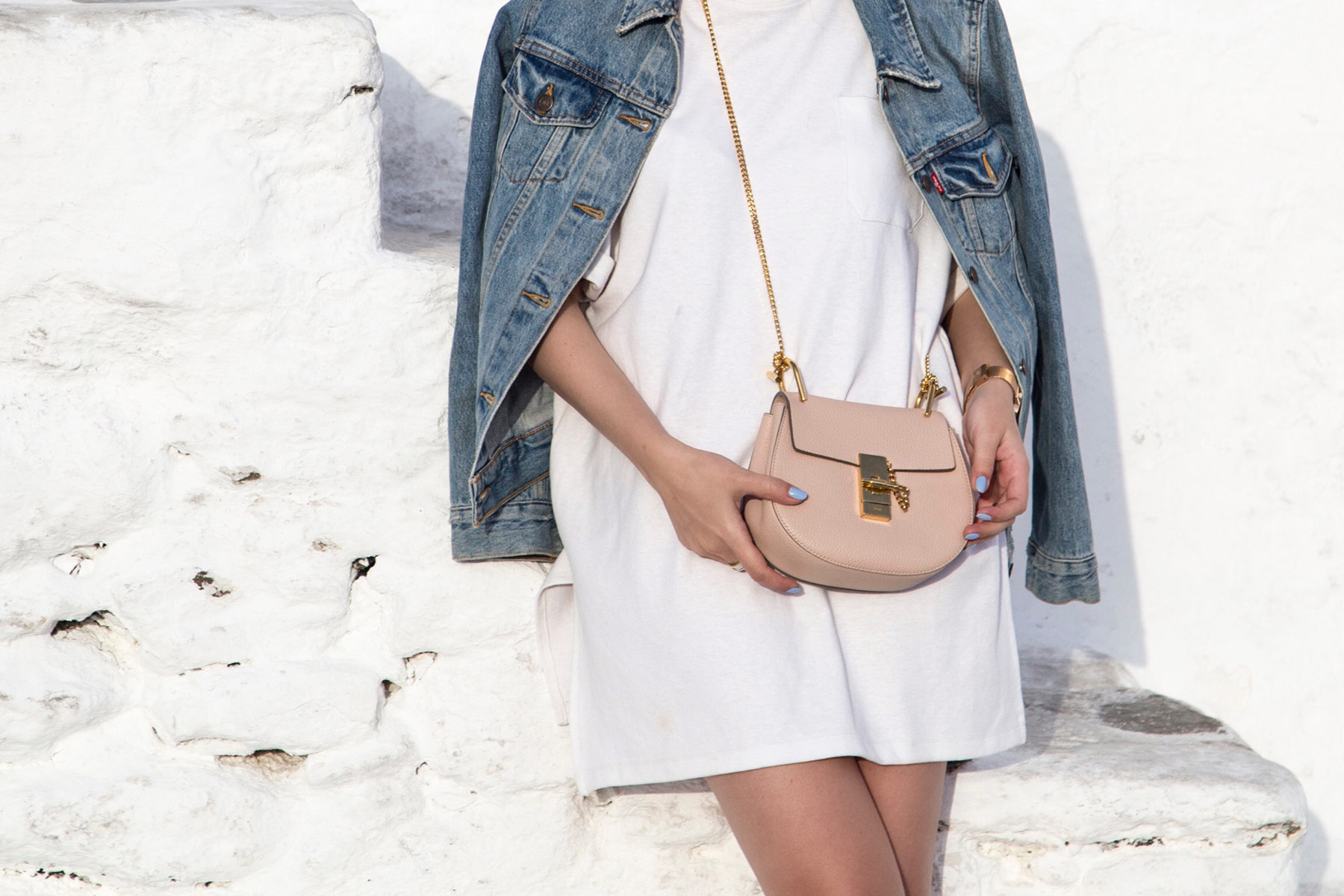 A vacation wardrobe for Greece, should be light and casual. The atmosphere in the Greek islands is really laid back, so casual clothing is a must. When planning what to wear in Greece in summer, pack tank tops, denim shorts, flat sandals and light dresses. These can all be in bright colorful shades to reflect the season.
To ensure your wardrobe allows you to blend with the locals, remember that Greek islands are known to be casual and boho. And since life is simple in the Greek islands, so is this list of essentials on what to wear in the Greek islands.
What to wear in the Greek islands
#1 Little White Dress
You will be experiencing very high temperatures for sure, so a little white dress is perfect to keep you cooler. I really prefer dresses than shorts for airy versatility.
#2 A bag that goes with everything
A bag that can go with all your outfits and can fit your essentials is what you should opt for if you want to travel light. This Chloé Drew bag in cement pink (mini size) can fit surprisingly many things for its size. And really goes with everything, as I have worn it on my wedding day, and with a super casual look like this one.
#3 Flat leather sandals
Since there are many historic and beautiful sites throughout any place in Greece, make sure you have the appropriate footwear with you. A pair of flat sandals in nude or black is the best option for day to night outfits. Remember, the easiest way to explore and get around on the Greek islands is on foot. In many cases, it is the only way, so comfortable walking shoes are really an essential.
#4 Stylish sunglasses
You will definitely need sunglasses if you are traveling to Greece, even during the winter. Pick a style that suits you and goes with as many outfits as possible if you like to travel light.
#5 Denim jacket
Although it can be really hot in Greece during the summer months, at night, a light jacket will protect you from the drop in the temperatures and sea breeze. Remember it's the coolest way to add a cool/edgy touch to a summer dress, by wrapping it around your wais or draping it over your shoulders.
Tips
Keep it light and simple. Greece is really very casual.
A few well-chosen pieces of jewelry will transform any outfit.
Pack a light jacket (like a denim one) or a pashmina as evenings in the Greek islands can be chilly.
Opt for thin and summer-appropriate materials such as light cotton and linen for extra breathability.
I hope you enjoyed reading my essentials list and tips on what to wear in the Greek islands, and look forward to read your comments.
SHOP MY LOOK:
Levis jacket (similar here)
H&M t-shirt dress (similar here)
Ancient Greek Sandals shoes (similar here, here and here)
Céline sunglasses (similar here on sale!)