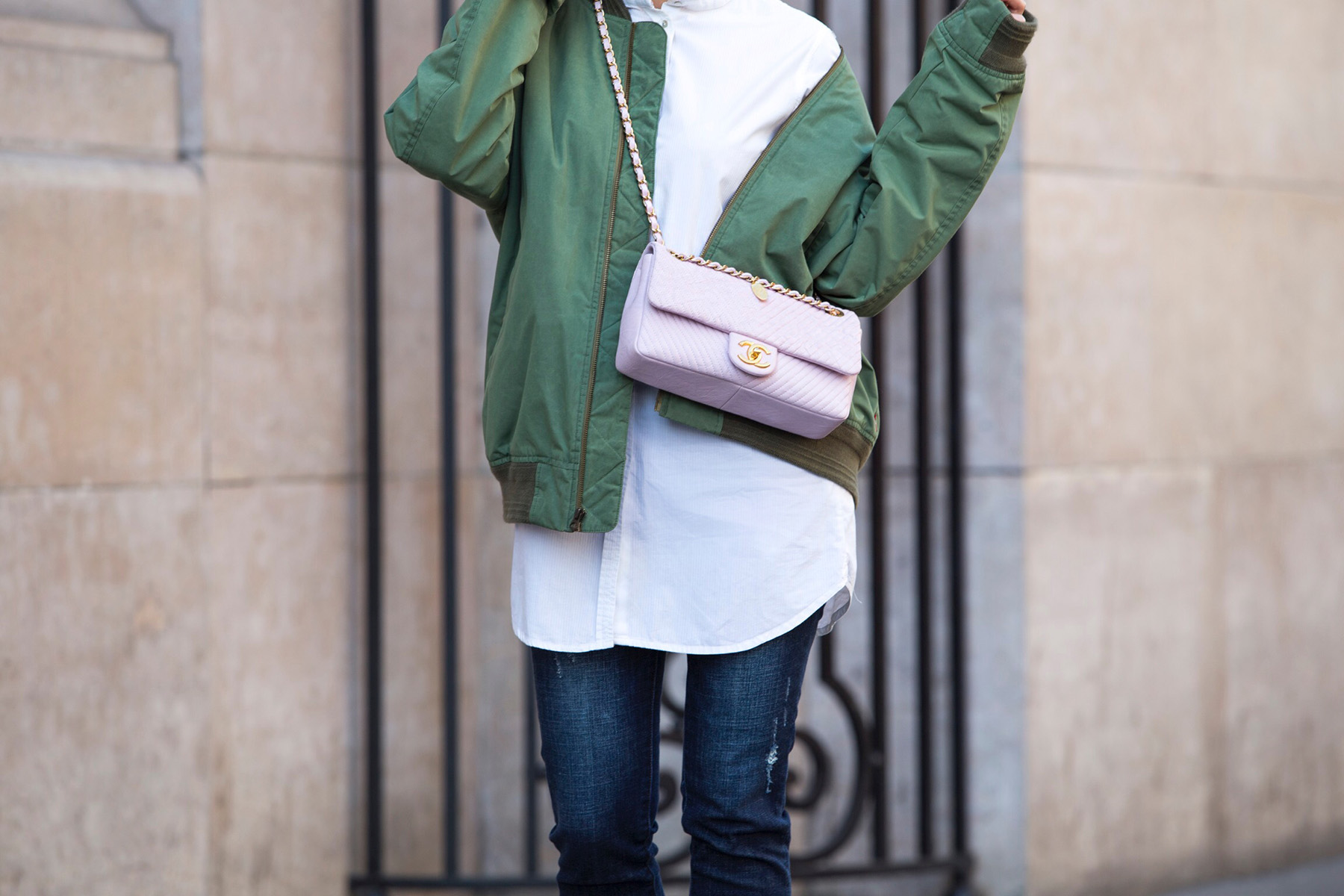 We ladies always want a stylish piece of clothing from that special someone. We want to wear his clothes, and usually act like magnets around the closets of our stylish men. Often, the idea of wearing his clothes was a lot sexier than the reality. But now that long sleeves and oversized clothes are sartorially accepted, you only need the permission to wear his clothes and to use your imagination.
So which clothing items you should steal from him?
#1 His Bomber Jacket
I have been searching for a long time for the perfect, khaki bomber jacket and I only found it in his closet. And he doesn't even wear it. Can you blame me?
#2 His Shirts
They make for the perfect shirt dress. What's more, super long sleeves are so hot right now, so you don't have worry about justifying the extra sleeve length. It's just perfect. If it's too baggy, you can wear a belt, and you can also wear them the cold-shoulder way (like I did here).
#3 His Hoodie
As much as they love seeing us wearing more form-fitting clothes, most men adore seeing their girl with their oversized hoodie. This is the item he most probably will, or has already given you himself. I love these oversized hoodies so much, that no man's hooded sweatshirt is safe around me, boyfriend, co-worker, friend, doesn't matter! 😉
#4 His Sweater
I am such a sucker for oversized sweaters that I almost believe it's my birthright to wear his! And I am sure you can come up with a lot of ideas on how to wear an oversized sweater.
#5 His Suit Coat
Nothing sexier and cuter than wearing your favorite little dress with his suit coat draped over your shoulders.
#6 His T-Shirts
Change into one of his t-shirts that you have always had your eye on, roll-up the sleeves a bit and tuck it into your favorite jeans.
What about you? Do you like wearing his clothes? What are your favorite pieces?
I was wearing:
Levis jacket – (similar here, here and here)
Zara shirt (similar)
Miss Sixty jeans (similar here and here)
Chanel bag (similar here and here)
Gabor shoes (similar here and here)
SHOP MY LOOK