Nothing seems like a better idea this time of year than a red coat. It's bright, it stands out in a forest of black, and it throws a flattering rosiness onto any complexion. A red coat is a great way to keep a casual outfit bright and fun. But how do you make a red coat work well for a casual outfit? Here is my suggestion.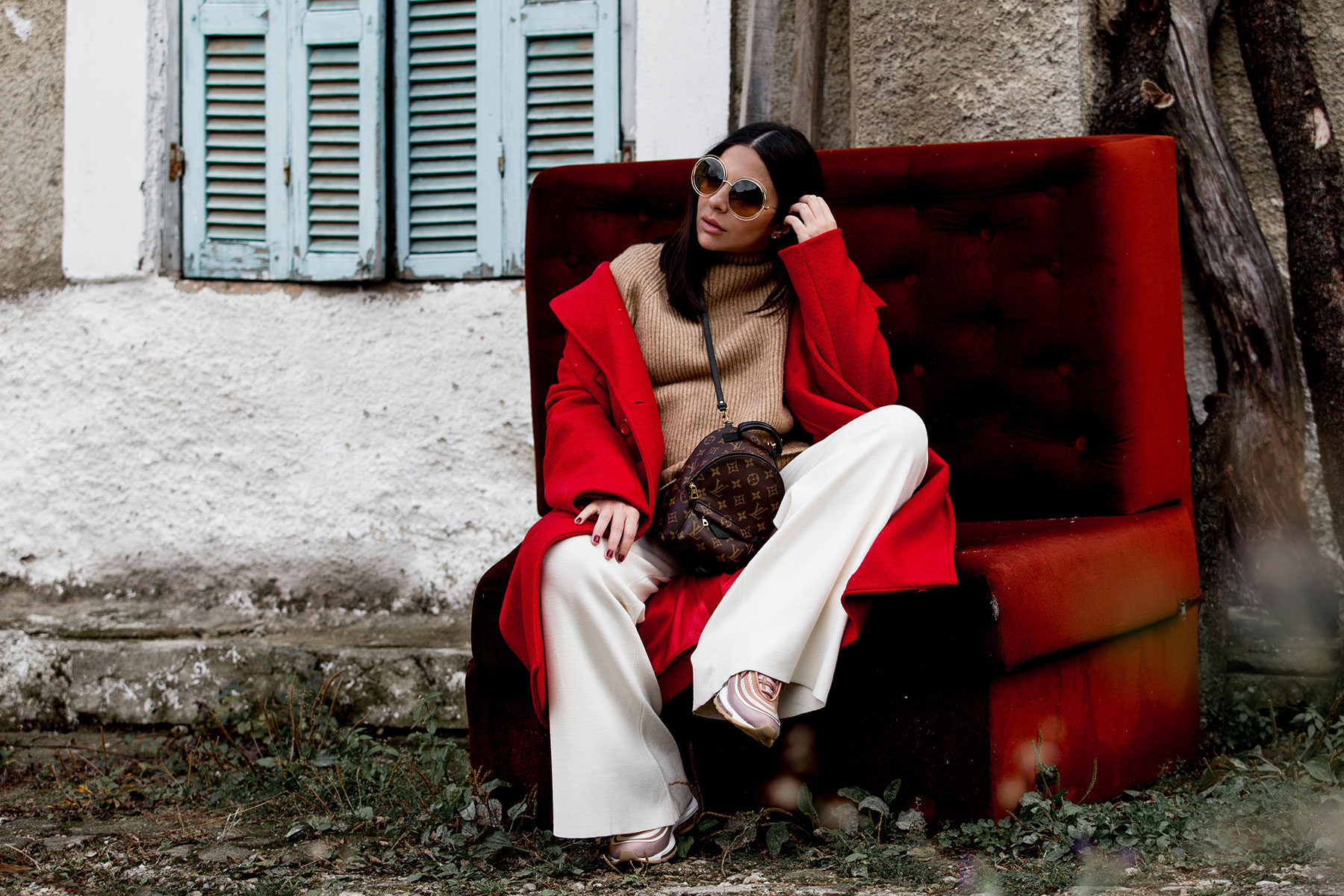 If you opt for a casual day look or you are overwhelmed by the amazingly many street styles with bold red outfits this season and don't know where to start, red and neutrals is really the best way to go. They can be black neutrals, navy blue, grey, or camel neutrals. I also enjoy the red and pink combination, or a total red outfit for a more vivid and eye-catching look, but it depends on the occasion and the result you want to achieve.
I wore this travel look during a weekend trip in northern Greece and chose to pair my red coat with camel/beige. Red does a great job brightening up these tones. This sweater and pants are so comfy, that even though they are not bought from a maternity department, they still fit me now on my 36th week of pregnancy. But even non-pregnant ladies can wear my look, so check below for outfit details and a selection of my favourite red coats for this season.
Obviously I started my outfit from this fab red coat from H&M. I am in love with its quality and structure! I paired with camel sweater, cream pants and super comfy Nike millennium sneakers that I got last summer. I finished with my favourite statement sunglasses from Chloe and my mini Louis Vuitton backpack, for some pop of brown. How do you like it?
This season, there is no easier way to make a statement on the streets than sporting red coat. When it comes to looking chic and bold, a red coat is definitely a perfect choice. How do you feel about the red trend this season? Do you own a red coat and what's your go-to way to wear it? Let me know in the comments below, I am always excited to read your ideas!
xoxo
Stella
SHOP MY LOOK:
H&M coat (similar here & here & here on sale!)
H&M sweater (similar here & here)
Zara pants (similar here & here)