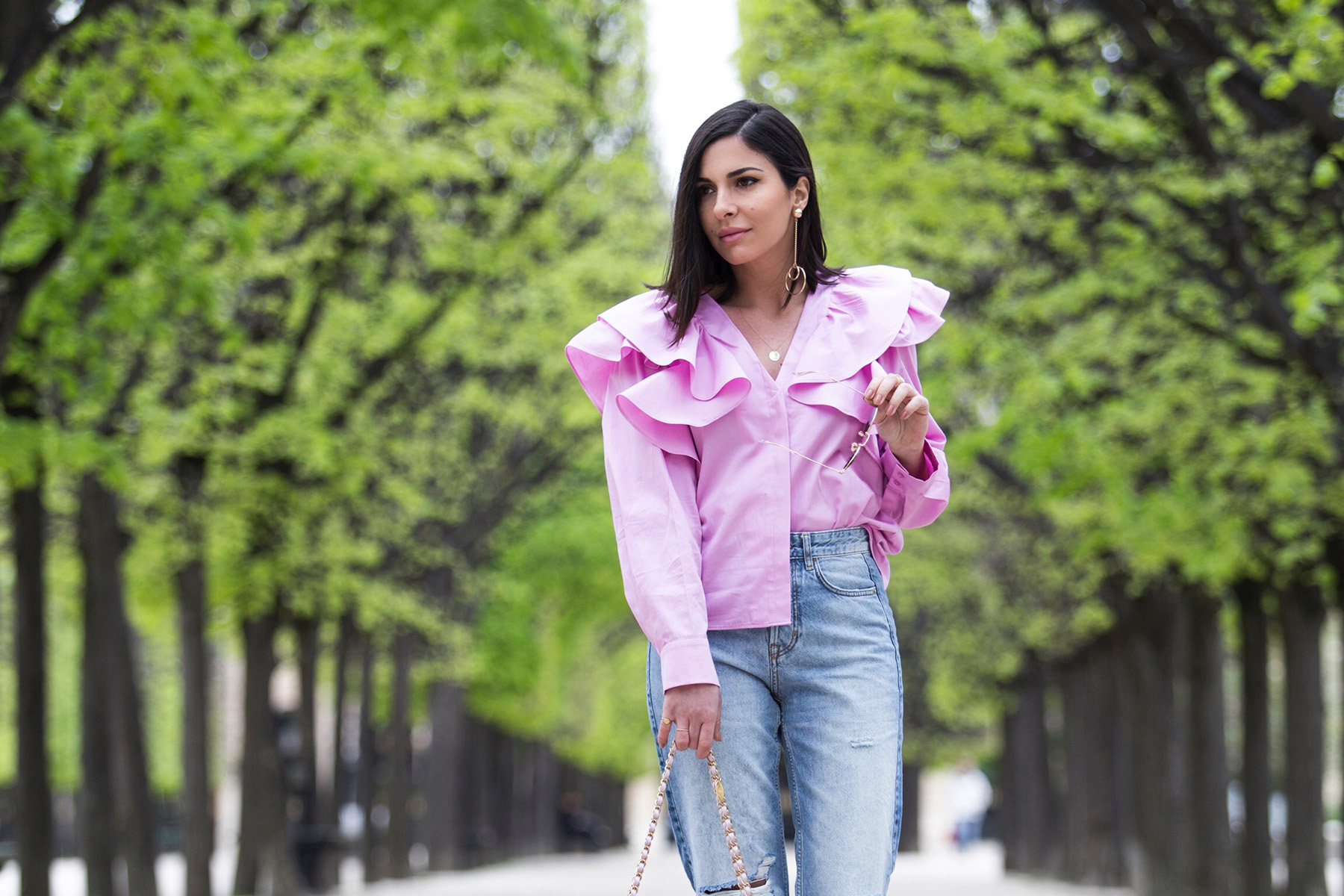 Bonjour my lovelies. Long time no see and I missed you guys so much! Those of you who follow me on Instagram and social media already know that I got married last Friday, hence I was not posting on the blog the week before and after. But first things first. How gorgeous is this pink ruffle blouse?
Ruffle blouses and shirts are really popular and a big fashion trend this spring/summer. A ruffled blouse or any other garment with ruffle details, brings a flirty and romantic touch to your outfit. Ruffle tops are a great option if your style is romantic, or want to add a romantic touch like I did here by pairing it with ripped jeans. I find this pink ruffle blouse from H&M particularly nice, as it creates an illusion of curves around the bust and shoulder-line (also have it in light-blue color).
How To Wear A Ruffle Shirt Without Looking Like A Can Can Girl
#1 Choose simple cuts and silhouettes for the rest of your outfit, to look chic and presentable. (I took a big risk wearing it it with ruffled pants here, still don't know how I feel about it. Was Fashion Week though.)
#2 Wear it with mom jeans for a casual chic, interesting outfit.
#3 Don't pair it with very feminine pieces that show your curves, like very tight pants and bodycon skirts. Instead, prefer oversized clothes like culottes, and boxor an a-line knee-length skirt.
Now I know you probably want to know everything about my wedding, and honestly I am dying to share everything with you. As soon as we have our photos, there will be quite a few posts regarding our wedding like why we did a secret, very intimate wedding in Paris while we are both Greek, what we did on our wedding day, my thoughts about marriage, the bridal essentials checklist, and so on. So if you want me to write a specific post, please let me know and I will. 🙂
So what's new with you? Do you have any weekend getaway plans? If you celebrate Easter, I want to wish you happy holidays for you and your families. I look forward to reading your news in the comments below. I am so excited to be back! Happy Friday and Happy Easter!
xoxo,
Stella
SHOP MY LOOK
H&M blouse
H&M jeans
H&M shoes
Chanel bag (similar here & here)
Ray-Ban sunglasses
H&M earring (similar)