When I gave birth to my son, I hadn't realized that nursing-friendly clothes are a thing. Sure, I had done my fair share on searching & finding ways on how to dress the bump without having to resort to maternity clothes, but I hadn't thought about nursing outfits at all. As a result, the first time I was dressing to go out with my baby, I realized that nothing in my wardrobe was nursing-friendly. I had very few button-ups, which almost all of them still fitted too small. And as with pregnancy clothes, I am not much into nursing clothes either. The struggle to find a go-to nursing outfit and style was real!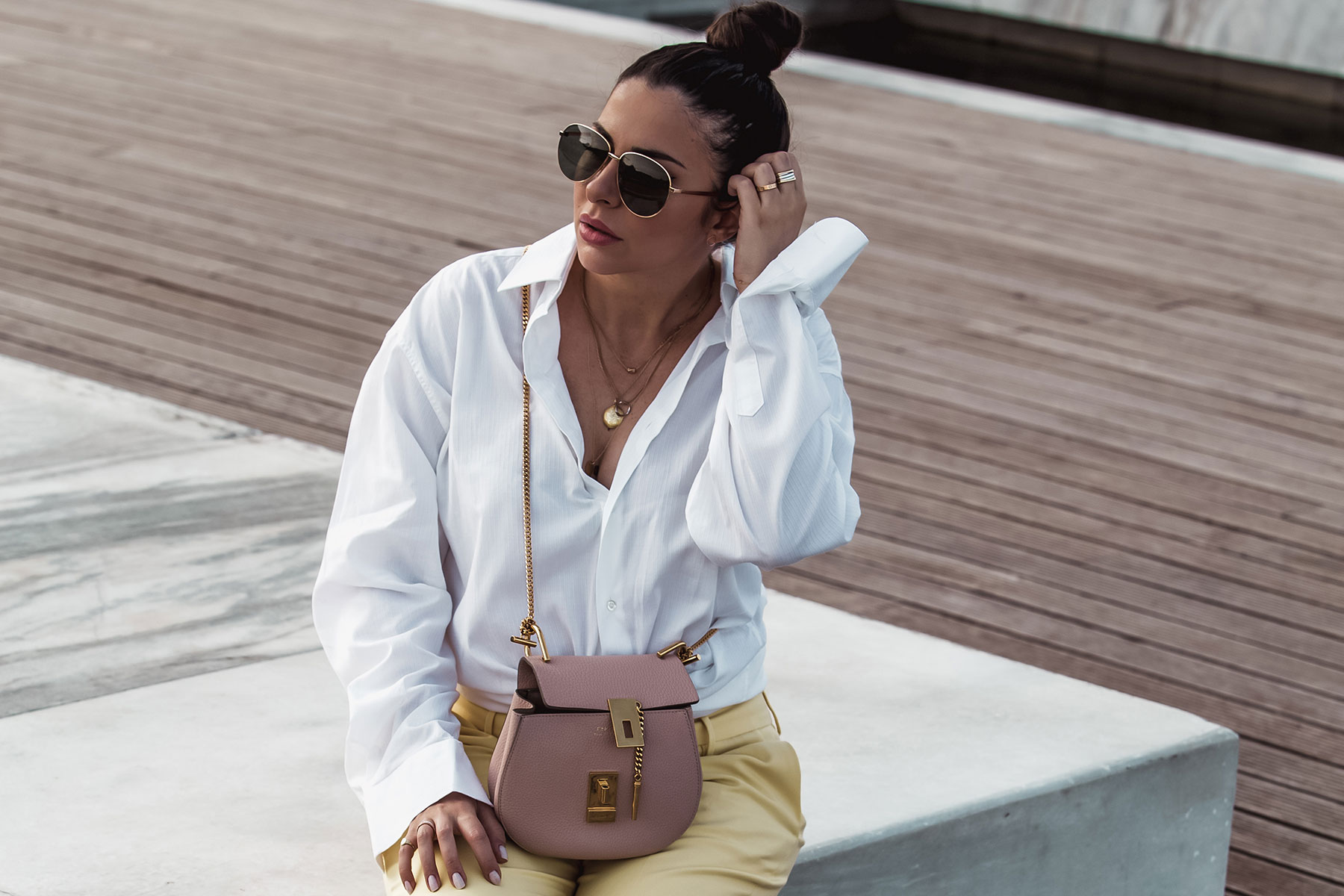 I have already written on previous post about how much I love wearing men's clothes, especially shirts. I am not talking about wearing them at home like a pyjama, but incorporating them into my daily outfits. So that's what I did again. His shirts became my go-to nursing outfit. What's more, I can wear them again and again in so many ways. They go perfect with a sexy bralette and delicate necklaces, tucked into jeans, or worn as shirt dresses.
For today's look, Anestis' shirt came to the rescue for yet another nursing outfit. I tied a knot at the bottom of the shirt and paired it with yellow trousers. I finished my look with dainty necklaces, white slingbacks, and this cute pink bag for a feminine touch, but also wore a pair of men's' sunglasses. What do you think?
What about you? Do you like wearing men's clothes? Which piece is your favorite and how do you like to wear it?
SHOP MY LOOK:
Zara pants (similar here & here)
Guy Laroche men's shirt (similar here & here)
J Bournazos shoes (similar here & here)