If I had to choose only one item of clothing to wear all summer long, it would be the little white dress. Little white dresses are the fabulous opposite of little black dresses, and they are very appropriate for day and night appearances during spring and summer (except for weddings of course).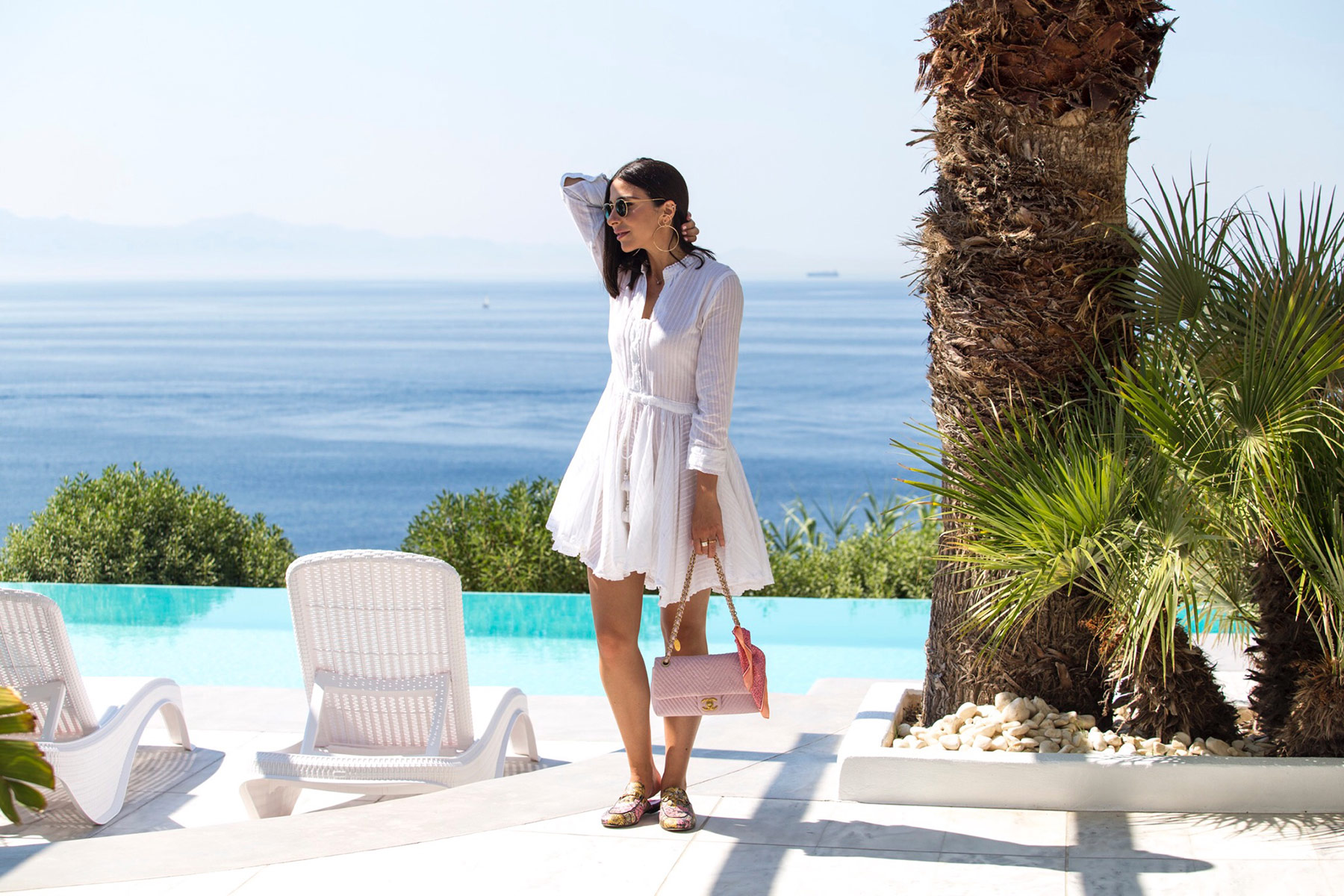 Those of you who follow me on Instagram, see me wearing them very regularly, as it's my go-to. This one from Zadig & Voltaire is my favorite little white dress, as due to the casual style code in Mykonos, I can wear from the beach to work and anything in between with the appropriate styling. Definitely not the type of girl who is afraid to wear the same dress or outfit twice (exhibit A, exhibit B). 🙂
Keep reading for the top 25 white dresses of the season!
How To Wear A Little White Dress
Quality fabric
The quality of the fabric always matters, but I pay even more attention when it comes to white clothing, as they are less likely to be see-through. Make sure to test it in different lightings to make sure it's not.
#1 Consider your accessories
Styling a little white dress is like working on a blank canvas. You most probably already have the shoes and purse that go perfectly with your little white dress, and maybe more than one choice.
#2 Keep it simple
While accessories are the key to the final result for any outfit, remember that the beauty of white is in simplicity. You'll notice that although my accessory choices were bold, I kept them to just a few key pieces.
#3 Add layers
You can play with layers by adding a scarf to keep it dressy (for me it was too hot so I tied it in my bag instead), or add a denim jacket tied around your waist for an edgy touch like I did with this little white dress here.
#4 The power of what's underneath
Be careful with the undergarments as they are the foundation of an outfit, especially a white one. Choose skin tone underwear instead of white, which can really pop.
#5 Envision a vibe
What kind of outfit are you going for? Could it be an elegant evening look, a sexy date night look, a casual day look, or an edgy look for a girls night out? Let this dictate your choice in dress.
Top 25 Little White Dresses Of This Season
I wore this look at work, to welcome guests at Villa Magia in Mykonos. How do you like it?
If you had to choose one item of clothing for summer, what it would be?
SHOP MY LOOK:
Zadig & Voltaire dress (no longer available, see above for similar options)
Chanel bag (similar here & here)
Hugo Boss Men scarf (similar here & here)