Greek islands are some of the most beautiful and popular summer destinations in the world! Having lived in Mykonos for more than 10 years now, I would really love to share with you my favourite looks for a stylish vacation in the Greek islands. Instead of writing down a packing list, I preferred to create some sets for you, using my latest fashion cravings! A girl can dream, right? Additionally I am giving you my essential tips to look your best when in Mykonos or Santorini, so keep scrolling down!
So what to wear in the Greek islands?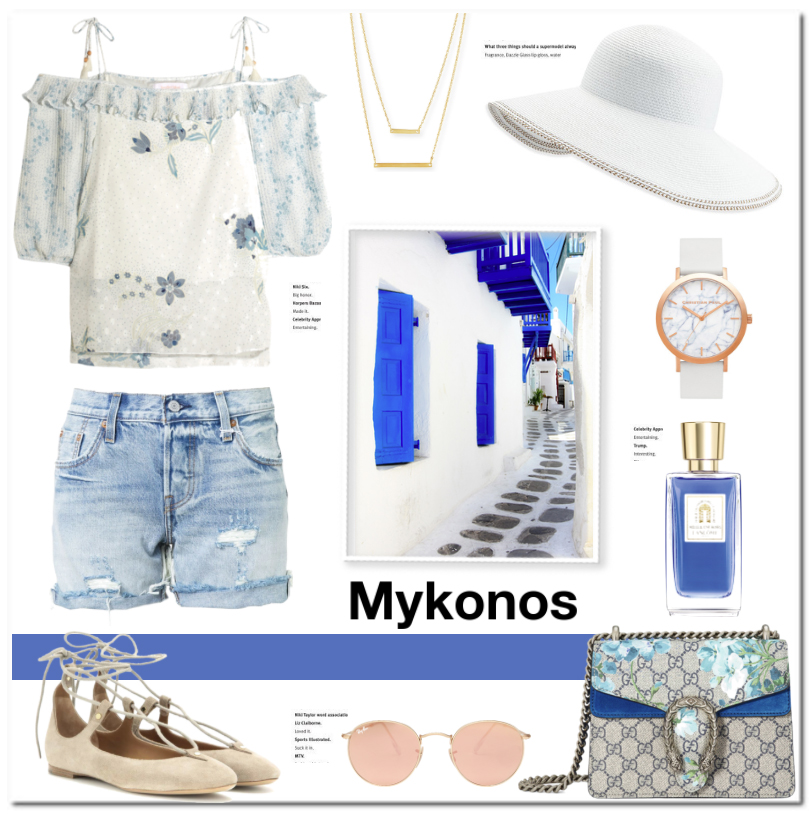 See by Chloé top / Levi's denim shorts / Chloé lace up ballerinas / Ray-Ban sunnies / Gucci bag / Lancome perfume / Christian Paul watch / Eric Javits hat / Jennifer Zeuner necklace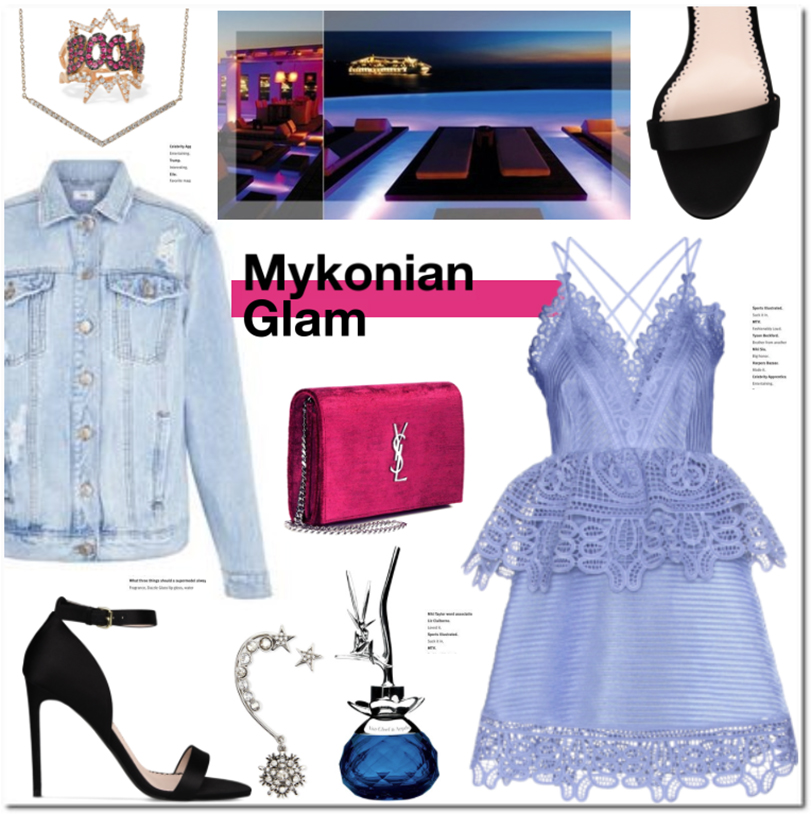 New Look denim jacket / Self-Portrait dress / Stella McCartney sandals / Saint Laurent Bag / Diane Kordas ring & necklace / Oscar de la Renta earring / Van Cleef & Arpels perfume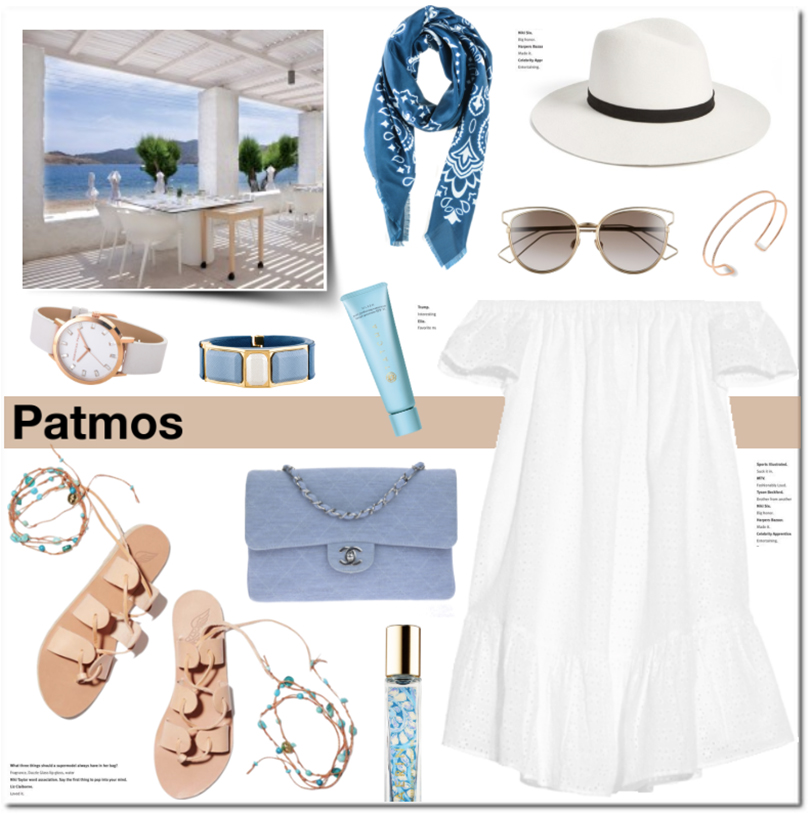 Elizabeth & James dress / Ancient Greek Sandals sandals / Chanel bag / Dior sunnies / Janessa Leone hat / 8aout scarf / Christian Paul watch / Prada bracelet / Kenza Lee bracelet / Tatcha sunscreen / Aerin perfume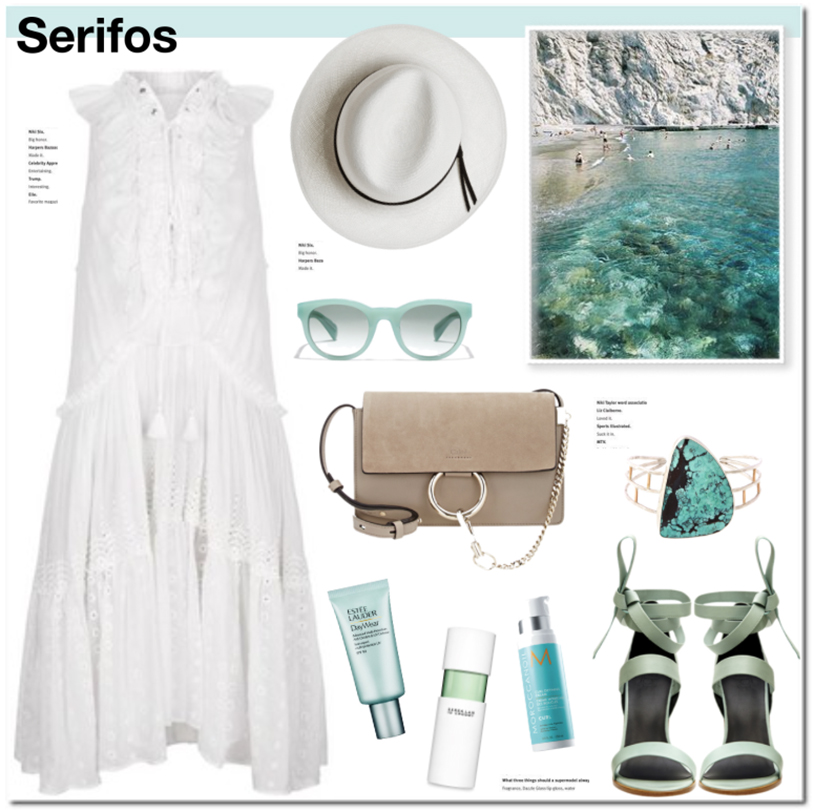 Chloé dress & bag / Tibi sandals / Calypso St. Barth hat / J.Crew sunnies / Melissa Joy Manning cuff bracelet / Estee Lauder sunscreen / Derek Lam perfume / Moroccan Oil curl defining cream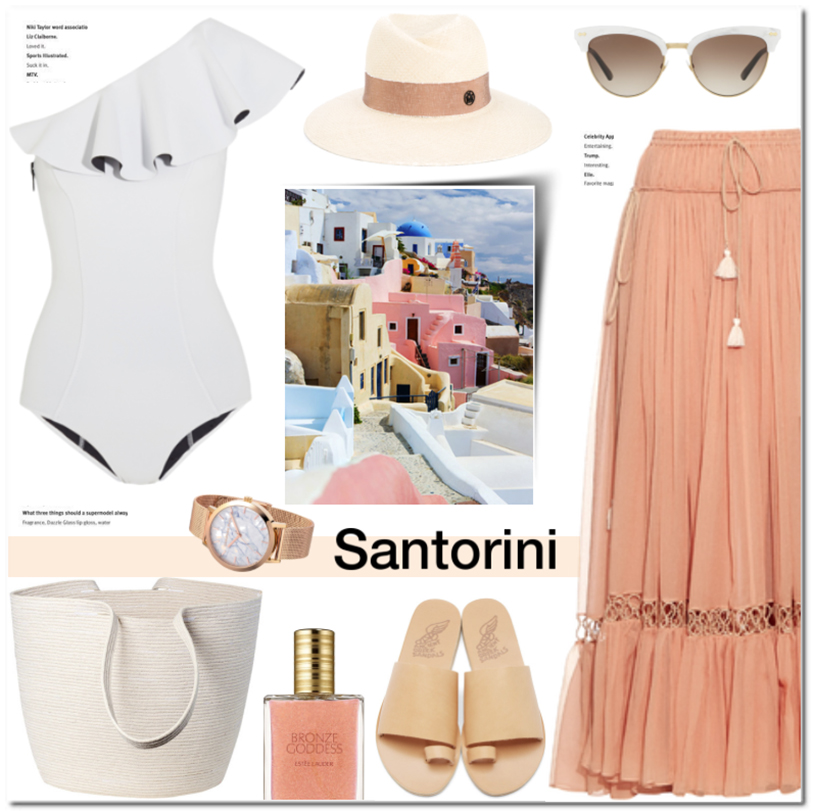 Lisa Marie Fernandez Arden one-piece swimsuit / Chloé skirt / Ancient Greek Sandals sliders / Maison Michel hat / Doug Johnston bag / Christian Paul watch / Gucci sunnies / Estee Lauder Bronze Goddess
Tips to help you look your best
Sun protection: This is a no-brainer. The sun is not kidding here, all year long!
Make up: Prefer light products and avoid heavy make up. My go-to is a high spf BB cream and mascara. Trust me on this; the high temperatures and 90% humidity will make your face look like an oil slick.
Hair: Humidity again. Save the hair styling time for something more fun, as any straightening or curling you do, won't last long. When the winds are strong, protect your hair by doing a really simple updo like a side braid or a chic bun. Anything more complicated and your hair may turn out looking like a bird's nest!
Avoid packing into your suitcase any straw hats and bags.
Shoes: Walking on heels in a Greek island's cobbled street can be a great challenge! An obvious solution would be platforms but if you are not a fan of them like me, prefer a pair of statement sandals and wear your glam high heels when you know that you will not walk much (or at all).
Sandals: If you are going to wear them, do it right and choose gladiators.
A light jacket is a must-pack even for August. Some evenings are quite chilly.
Sarongs and kaftans: For some reason, I find sarongs working better with one-piece swimsuits and kaftans with a two-piece, don't you think?
Watch: You really don't want to be missing these breathtaking sunsets that many Greek islands are known for, like Mykonos and Santorini. So switch of your cell phone, leave it back at your hotel, and wear a stylish watch instead. I have a major watch crush on Christian Paul watches right now, as they are the most affordable, luxury watches and can really upgrade any simple outfit.
Dresses and skirts: Make sure to wear a seamless pair of shorts underneath your skirt or dress, especially when it's a mini one. As much as we all LOVE the iconic scene of Marilyn Monroe and her flying skirt, I am sure you wouldn't like your private parts exposed from a strong Meltemi which can blow out of nowhere (north wind which blows during summer in Greece, especially in Mykonos), right? 🙂
So have you ever been to any Greek island? Any particular one on your travel bucket list? I'd love to hear about it!
Thank you for stopping by, I hope you enjoyed reading and I wish you a great weekend, full of vacation plans! 🙂