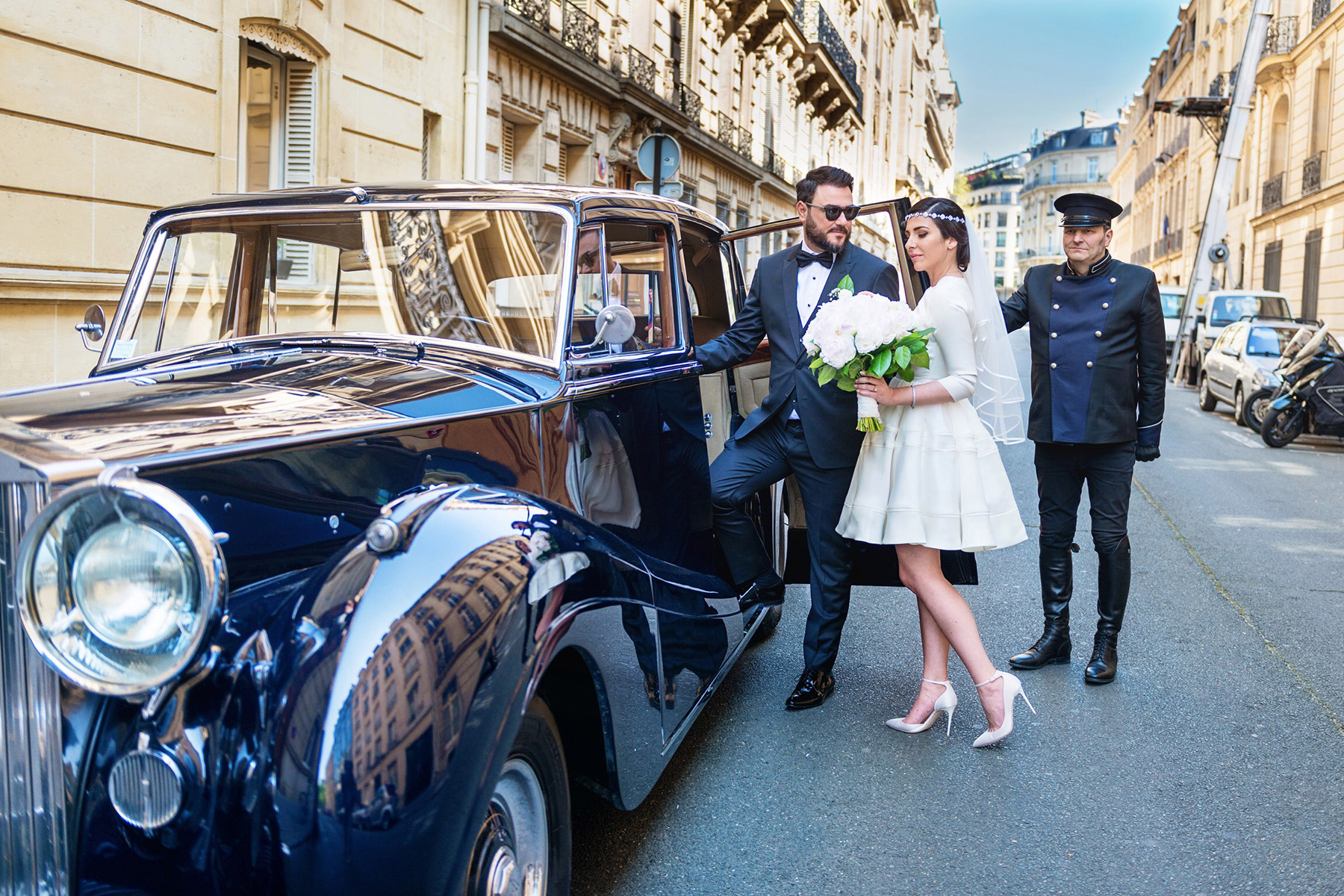 On April 7, 2017 I married the love of my life. It was a very intimate yet glamorous wedding in Paris. We wanted to avoid the drama that most of the times goes hand in hand with large weddings, but we didn't want a bare-bones elopement either.
Wedding Date: April 7, 2017
Location: Paris, France
Number of Guests: 4
Wedding Ceremony Location: Greek Consulate of Paris
Wedding Reception Location: After our wedding we had a cake & champagne reception followed by lunch, at Chez Julien restaurant. Later, we had our wedding photo shoot and the dinner reception at Victoria (Larc) restaurant.
Why Paris?
We recently made our dream come true, and relocated permanently in Paris. We have already built a beautiful life here, where we also got engaged two years ago. (You can read more about what Paris means to me on this article). It was the best decision we have ever made, both for moving and having our wedding in Paris.
Why such an intimate wedding?
Choosing to marry each other in a country other than Greece (we are both Greek) made the process easy as we did not want to burden financially anyone with our decision. But most of all, we wanted to have close to us only people who truly love us on that special day. Some couldn't come and some wouldn't. The initial guests and plans where a bit different, but everything worked out magically, so that this day we would be accompanied from our very dearest friends, Philippe, Christophe, Eleanna and George.
Did you have any issues with the small guest list from friends and family? If so, how did you address them?
Yes, we did. Some family members did not understand why we would want to get married in Paris, or anywhere else away from Greece whatsoever. Even when we had announced them the idea of having an intimate wedding abroad, there were friends and family who were very negative about it, and highly opinionated about where and when we should get married, so it would be convenient for them to come. Those who know us well though (and love us for who we are), knew how perfect this decision was for us. We were very happy that after our wedding, everyone was telling us that everything about our wedding was "us".
What were the highlights of the ceremony?
Where do I even begin, when everything felt so magical? Around 10:30 our 1952 vintage Rols Royce picked us up from our apartment and drove us to the Greek Consulate of Paris where Anestis was waiting for me. In the car I was with Eleanna (Anesti's sister and also one of my best friends), and our dearest friends Christophe and Philippe. Listening to old French songs from Charles Trenet and Joséphine Baker while passing by the Seine river, place de la Concorde and the Champs Elysées, felt absolutely magical. I remember it more as a dream, than something that has actually happened. Just as the whole day of our wedding. The ceremony itself was really beautiful. The best part of the ceremony was Iason, the consul, who created the most beautiful vows with words that literally brought tears to our eyes and laughter in our hearts. Arriving at Chez Julien listening to one of our songs without arranging it, was also precious. Another thing I'll never forget is the sweet people of Paris, both locals and tourists, would see us and beep their corns, look with admiration, yell out congrats, wave at us and take pictures. We saw a lot of these pictures the next day, under #pariswedding hashtag on Instagram. We honestly felt like celebrities!
What was the best thing about having an intimate wedding?
The best thing about it was that we focused only on us. The wedding represented only us and our taste and thoughts on what we considered as the perfect wedding. We wrote our own vows in a letter and gave it to each other, that made it really special and intimate. And we managed to have a glamorous wedding for less than the half of what a large wedding of 200+ guests would be. I still had my something old, something new, something borrowed and something blue. My dress, shoes and accessories were new, my earrings as something old, my bridal garter as something blue, and for my something borrowed, I wore my mom's custom made silk bridal robe and Eleanna's diamond bracelet which perfectly matched my own.
What advice do you have for couples who are considering an intimate wedding?
My best advice to any couple thinking of planning an intimate wedding, whether for just the two of you or 30 people, is to always remember to stay true to you. Do not do something based on what other people (parents, relatives etc) would want. Do what makes YOU happy and you will have no regrets. Trust me! Also, having a small intimate wedding, doesn't mean it can't be as glamorous as a bigger wedding. It can be even more actually, as you save a lot of money you would spend to invite people who you've never even seen before in many cases. Remember your wedding day and your marriage too, is ALL about YOU and your future husband/wife.
I would like to thank for their amazing service and for making our special day even more beautiful:
Chez Julien Restaurant (especially Josh)
Victoria-Larc restaurant (thank you Melissa)
Paris Luxury Cakes (thank you so much Christina)
Paris Automédon Services (thank you Pasqual)
Mayor Cab – Transport Van Paris (Thank you Dan & Nicolas)
What we were wearing:
Anestis: head-to-toe look from Hugo Boss.
Stella: Delphine Manivet dress / Jimmy Choo shoes / Chloé bag / Jenny Packham headband / Custom made veil / Custom made diamond jewelry /