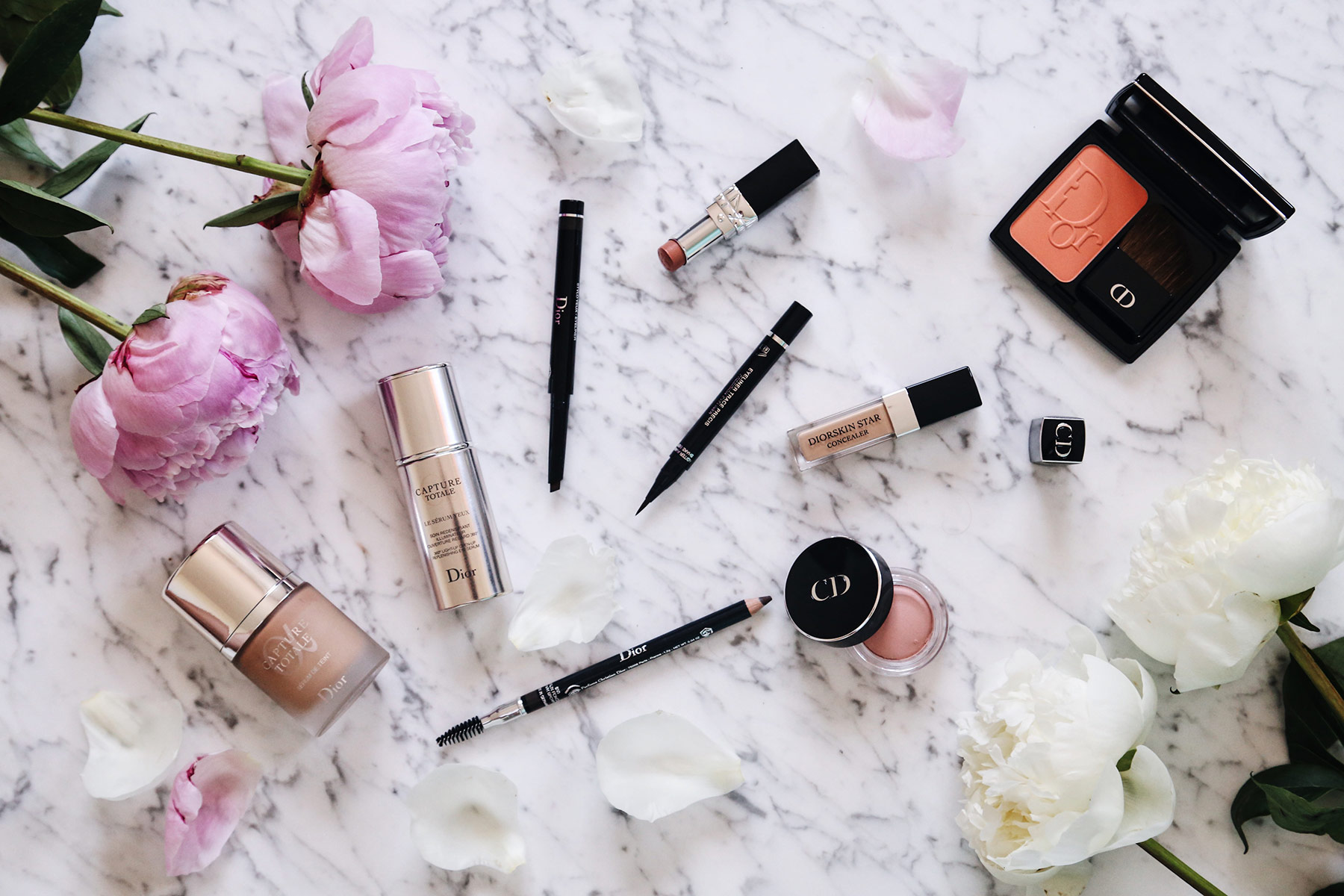 A girl can never have too many makeup products, right? Wrong! We all have piles and piles of makeup products, while we actually need a few, especially during summer. Today I am sharing with you my 10 favorite Dior makeup products for a natural, fresh summer makeup!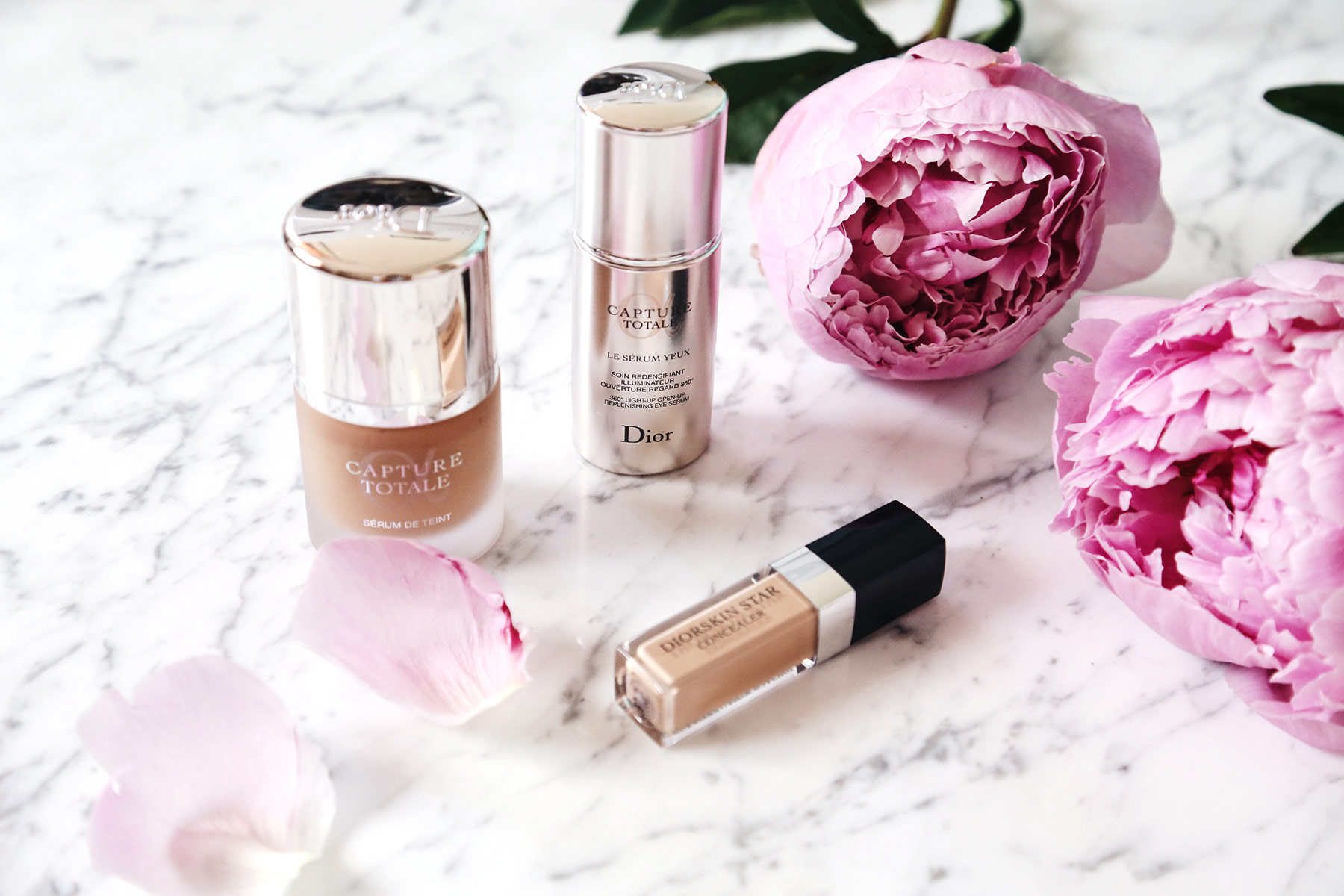 My favourite 10 Dior Makeup Products
Capture Totale Le Sérum Yeux:
First of all, I am simply in love with this product! With every application, it corrects all visible signs of tiredness. The eyes open up! It instantly uplifts the eyelids and arches, while reduces puffiness and dark circles. I had first tried it at Sephora, after a few days of having no more than 4 hours sleep per day. The lack of sleep was annoyingly written all over my face. But Capture Totale Le Sérum Yeux worked like a charm! Let's not forget that during summer, our body tends to be less efficient at removing fluid from tissues, which usually results to puffy eyes! And that's where this incredible product comes to the rescue! There is a great tutorial here on how to apply the Capture Totale Le Sérum Yeux.
Capture Totale Foundation:
Since I have used almost every Dior makeup foundation, I find this one as the best for everyday use, at least for my skin. Not only offers a medium to full coverage and SPF protection, but it is also a real treat for the skin as its base is serum. It comes with a pump which keeps the product sanitary and doesn't let air get in. This is very important for a serum product which contains active ingredients. It comes in a wide range of colors. I am wearing 032.
Diorskin Star Concealer:
This concealer is ideal for a natural coverage and has a silky texture that blends really well, offering a matte finish! Make sure to prep the area sufficiently, to avoid accentuated lines around the eye area. I am using the Capture Totale Le Sérum Yeux as a primer and it works like a charm with preventing my concealer from creasing. Keep in mind that this concealer is very natural, hence if you have really obvious dark circles, you'd rather opt for a more covering concealer. I am wearing the 002 beige.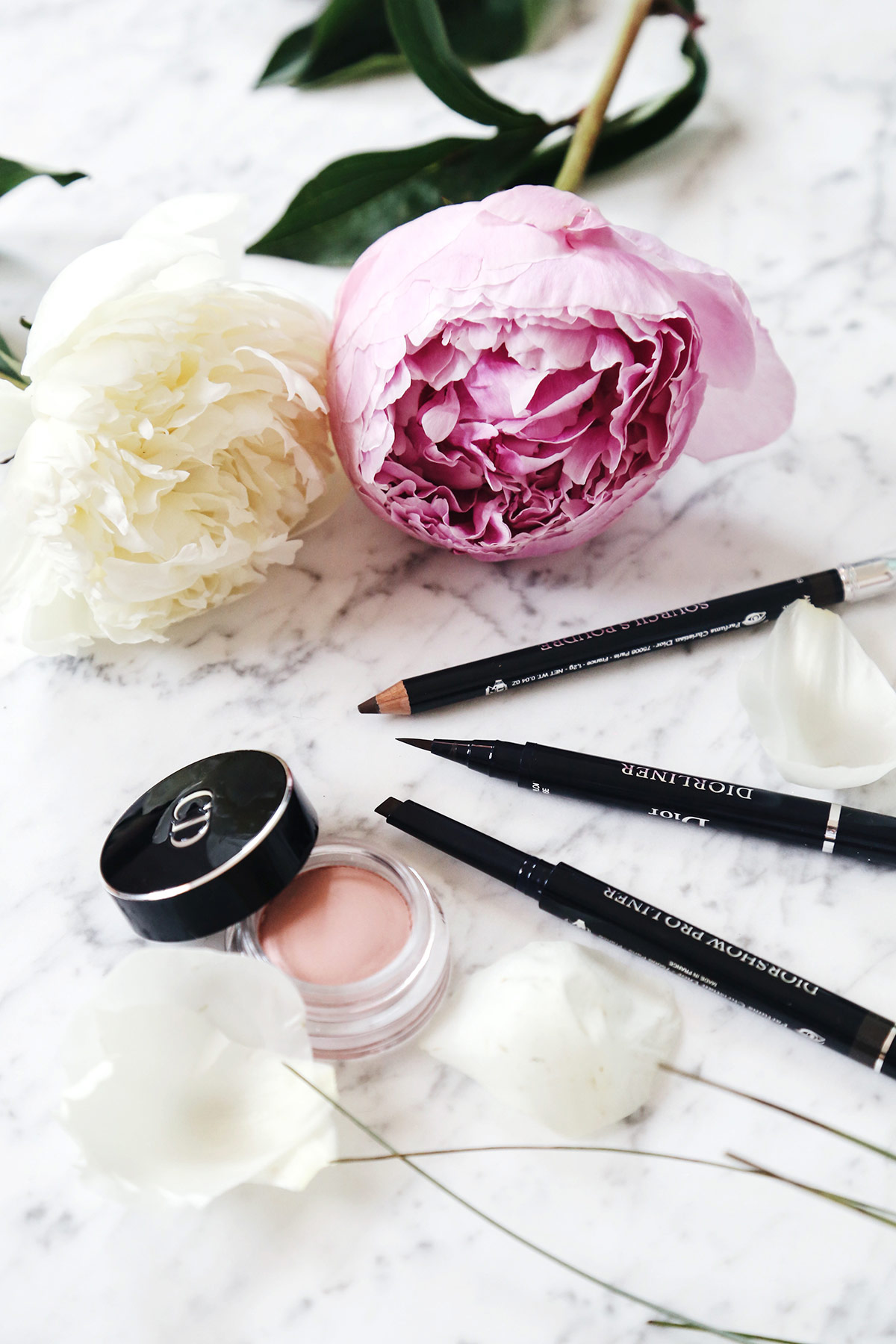 Diorshow Fusion Mono Matte – 641 Fantasia:
This is the second time I am purchasing the specific eye shadow and shade. It comes in a glass jar with a brush applicator just like the Chanel D'Ombre shadows, only this one is matte. Its formula is unlike anything I've ever felt before. You can apply it with your fingertips for a more sheer effect, or use the brush for an opaquer and pigmented finish. I wear it almost daily, and has minor fading after 10 hours at work, which makes it also ideal for summer months.
Powder Eyebrow Pencil:
I was very glad to take my friend's advice (thank you Samantha!) and try a Dior eyebrow pencil. I have tried so many eyebrow pencils over the years like Bourjois, Estee Lauder, Mac, but they are not as good as the Dior. Finally, an eyebrow pencil which is non-redish, non-waxy, with a powder, long lasting finish. Although most of the shades are on the warm side, I have found my perfect match in the 693 Dark Brown. And what's more, the Dior eyebrow pencil is ideal for summer days, because even after hours under the Greek sun, I never had any awkward "wipe off" accidents during the day.
Diorshow Waterproof Pro Liner:
One of the most versatile Dior makeup products! This revolutionary eyeliner offers the easy application of a pencil, while offering the intensity of a liquid liner. Instead of having a regular pointy pencil tip, this one has a beveled, angled edge, which lets you draw lines of different widths. Apply it horizontally for a thin line, and vertically for a thick one (there is a tutorial here). I use it mostly to define the upper waterline, and it stays put for several hours! It's my favourite makeup hack because it makes my lashes look fuller and my eyes more defined without looking smaller. It's these little details that make the difference. 🙂 I use the 582 dark brown.
Diorliner Precision Eyeliner:
I had bought this one in a purple prune shade a few years ago and I was impressed by the easy application (I am super clumsy with eye-liner). Even I, was capable of drawing a homogeneous, regular and precise line with this eye liner! Therefore, I also bought it in black and dark brown, which is the one I wear mostly because it looks more natural. So weather you're lazy or naturally clumsy like me, you will be able to enhance your eyes with the Dior Precision Eyeliner.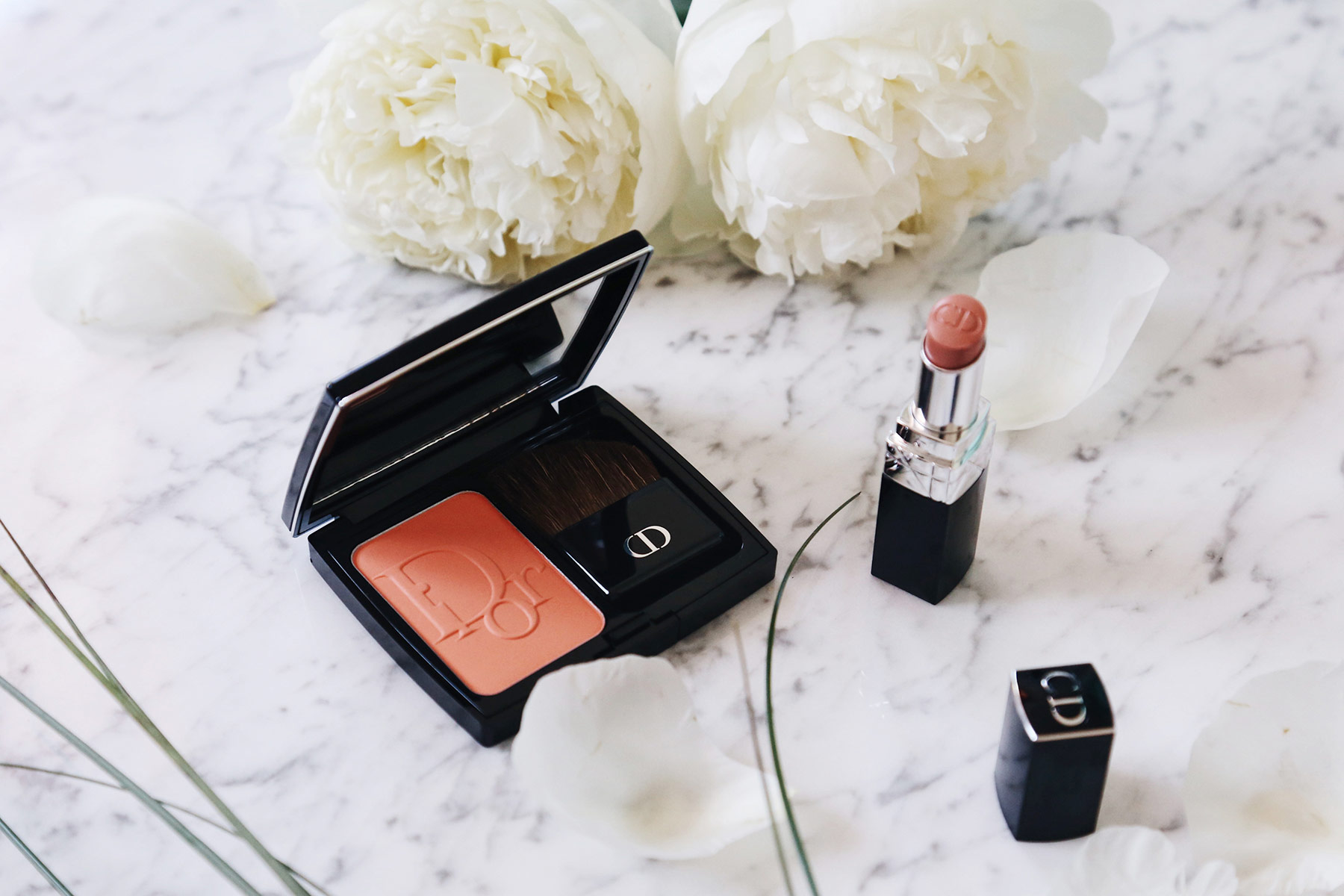 Diorblush 586 Orange Riviera:
I like this particular blush shade because of its color authenticity. It's not coral, it's not peach, it's ORANGE! Its velvety, weightless texture that blends smoothly onto skin makes it a must-have, while it can also be layered for a bold, dramatic look. I also use it for a natural eye contouring! Generally, I have noticed that Dior compacts are highly pigmented and concentrated, therefore they last forever and worth every cent!
Rouge Dior Baume – Milly 640:
This is my go-to neutral lipstick. These lipsticks are an excellent blend of intense pigment of a traditional lipstick, and a moisturizing formula with the benefits of a lip balm. I really like this specific shade which is a bit more natural, but there are a few more swatches to choose from (check the "Escapade" and "Kew Gardens").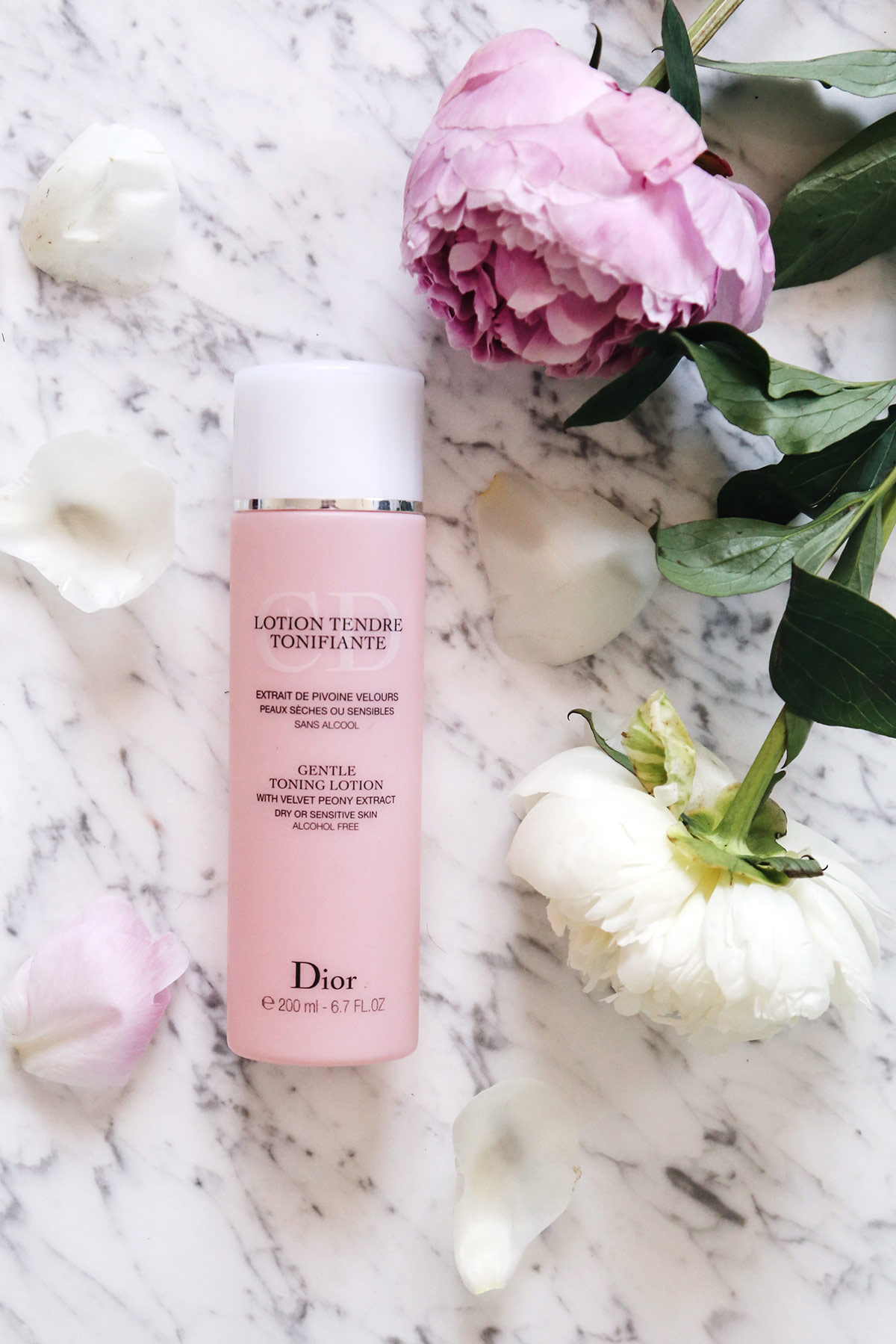 Dior Gentle Toning Lotion with Velvet Peony Extract:
After cleansing your Dior makeup, this gentle, alcohol-free toner removes any remaining traces of impurities and makeup, while hydrating the skin. Most of all contains skin-repairing ingredients such as hyaluronic acid (a potent humectant that attracts and holds water) and sodium hyaluronate. A con to this product is that it contains added fragrance which is not good for sensitive skins. However although I have a sensitive skin, I never had any irritation and I am very satisfied with it.
So have you ever used any of these Dior makeup products? Do you have any particular favorites from Dior and why? I would love to find out in the comments.
Thanks for reading and have a great month of August! 🙂
SHOP THE POST: