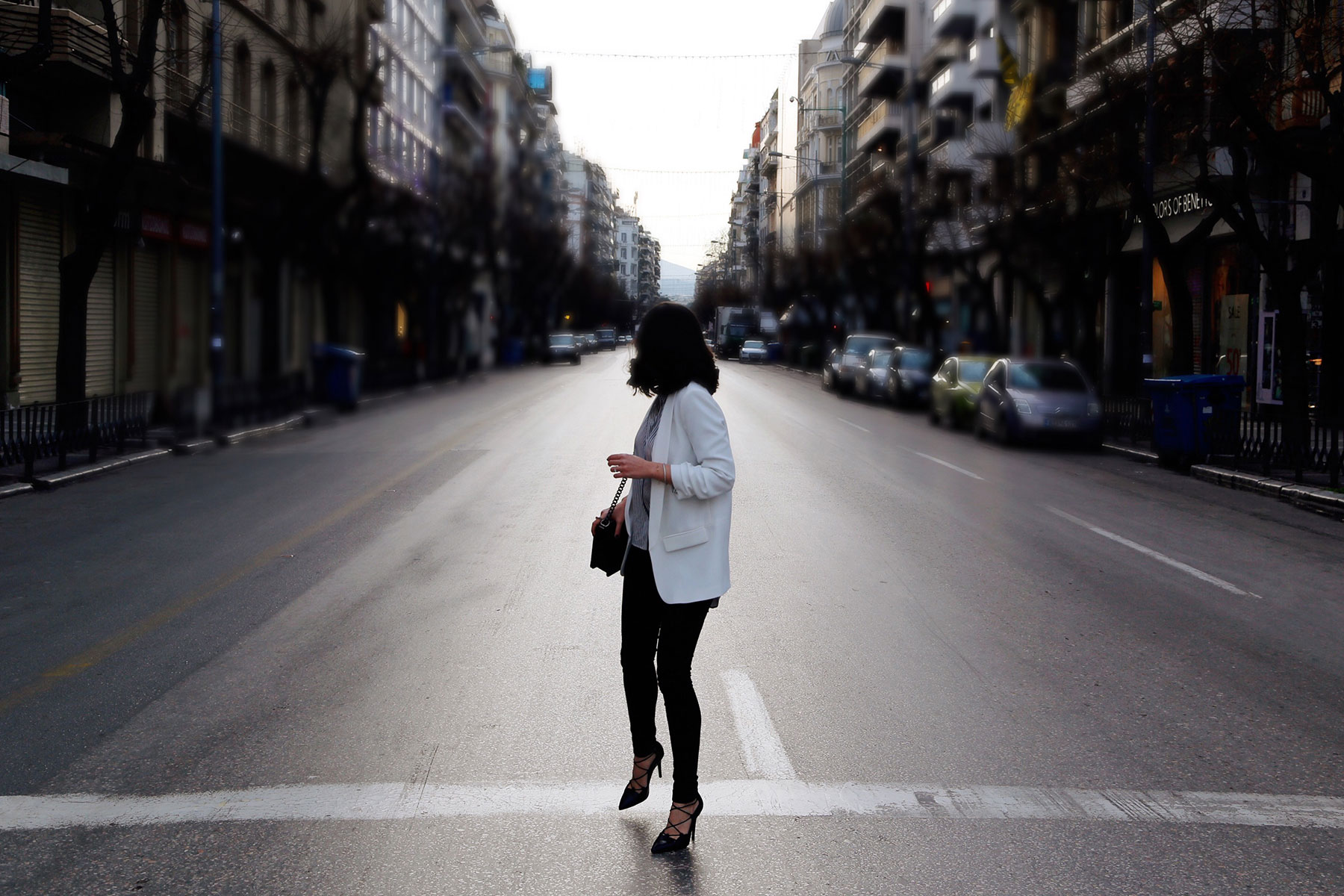 Hi everybody! I hope you are having a great week so far. As most of you guys know we are getting ready to return to our base, Mykonos, and I couldn't be more thrilled! I am not sure if it's because of spring, or the exciting projects that we are preparing in our Company and Blog, but this time I really feel unstoppable! The preparations are in full swing, since we were supposed to stay in Thessaloniki for just one or two months, and ended up staying for six, so now we have to move a home and an office (not to mention the wardrobe haha)! Apart from that, this time every year we have already many reservations for the upcoming summer season, and I look forward with great anticipation to meet our guests and to do anything in my power to offer them their dream vacation in Mykonos Island. Swoon!
But before I soak up the sun on the amazing beaches of Mykonos, I really love to share with you a look that's more suited for big city streets. Today I will show you an ootd from last week, which I wore to go to a business appointment early in the morning. I have recently shared a look with this white blazer, which has become one of my favorite wardrobe staples.
What I really love about this particular blazer is its luxurious texture and that turn-up sleeve detail. Also the fact that it covers the butt makes it ideal for business looks. Please consider the butt-covering factor if you need to buy a blazer for work. I always like to add some playful edge to my business outfits so I chose these lace-up pumps from Zara, instead of a simple, classic pump, and finished my look with a pair of black skinny jeans and a stripped shirt with high-low cut, which also covers my butt if I take off my blazer. Simple yet chic and on point!
So apart from this look, I would like to give you a quick update on what's going on in my life lately, cause I love involving you in everything I do. I can't wait to share my life in Mykonos with you, and tell you more like how I get there, why I decided to relocate permanently, what I love about this place and more!
Until then, stay tuned and keep sharing your thoughts and ideas with me. Even if there is something you don't like, please feel free to tell me and I will do my best to improve it!
Have a great weekend and thank you for stopping by. 🙂
I was wearing:
Zara Pumps (similar)
Chanel Bag (more affordable option here)
photos by: Anestis Iliadis