Now that you found your bridal gown, the next step is choosing the finishing touches. Read on for my bridal essentials checklist and advice on picking the perfect accessories.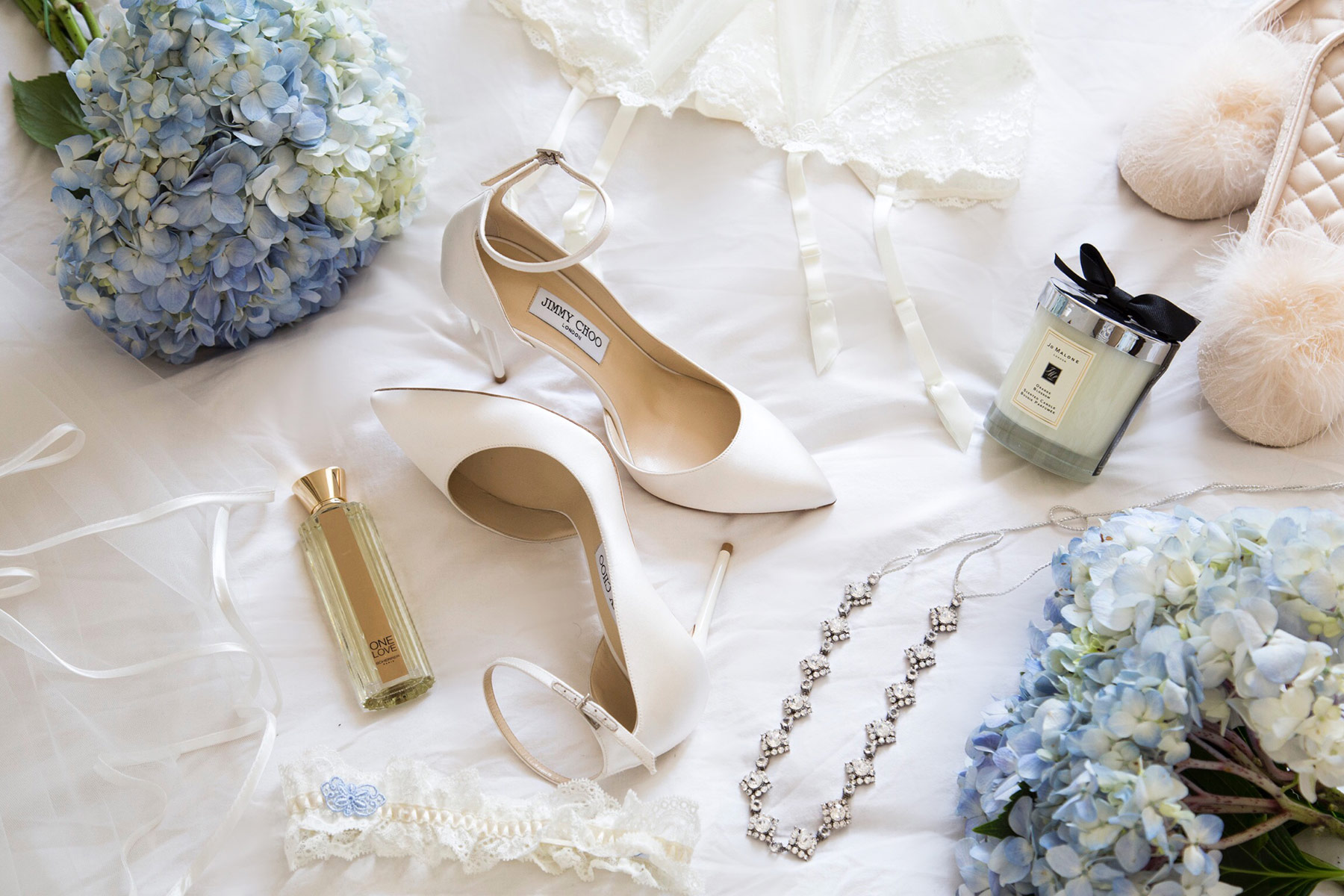 #1 Shoes
Assuming you already got the dress, the next piece you should make sure to find is your bridal shoes. It's much easier to set the dress with the shoes first, and choose the other accessories afterwards. I was so happy when I found these Jimmy Choo pumps as they look like they've been literally cut from the same cloth with my dress.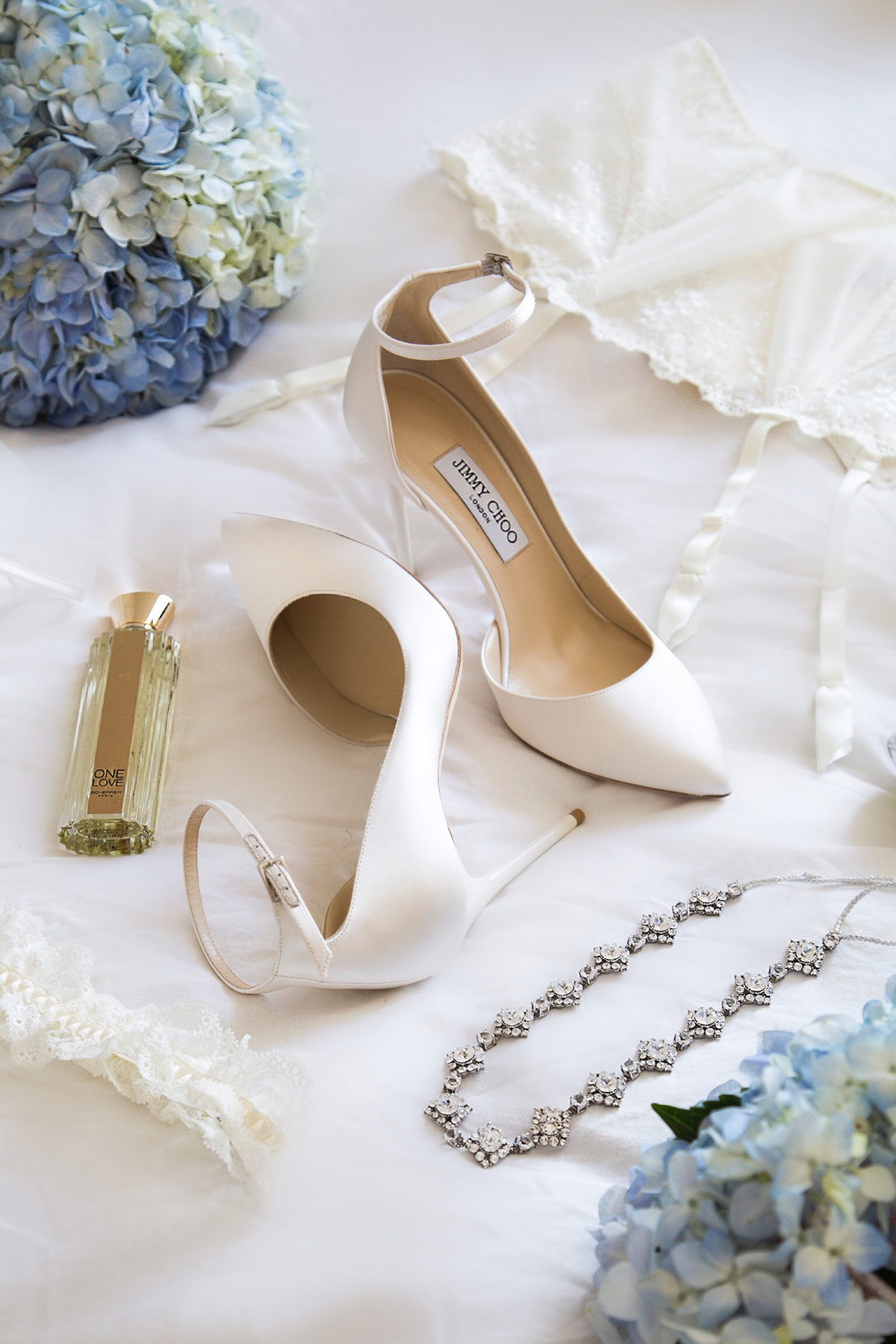 Don't forget: You'll be standing for long periods of time on your big day, and you don't want to be cringing in pain before you've even hit the dance floor. While shopping, consider the height of the heel (obviously the taller you go, the higher the pain potential), the type of straps and the material. Opt for high quality, natural materials. They're infinitely more comfortable than synthetic ones and are also a lot more durable, meaning you'll be able to wear them again. Dyeable wedding shoes like these Jimmy Choo I got are a great option .
#2 Head pieces
The options are endless here. You can choose a headband, a tiara, a floral wreath, a back-piece like a barrette, jeweled or beaded hair sticks, a veil, or a mix of two if it's not too much. Fun fact, I was not going to wear any head piece, as my initial idea of my bridal look was much less bridal, but I finally said yes to the dress, to the veil, and to this marvelous headpiece from Jenny Packham (my full wedding look here). Now two months after the wedding, I still wear it as a headband with jeans and t-shirts and love it.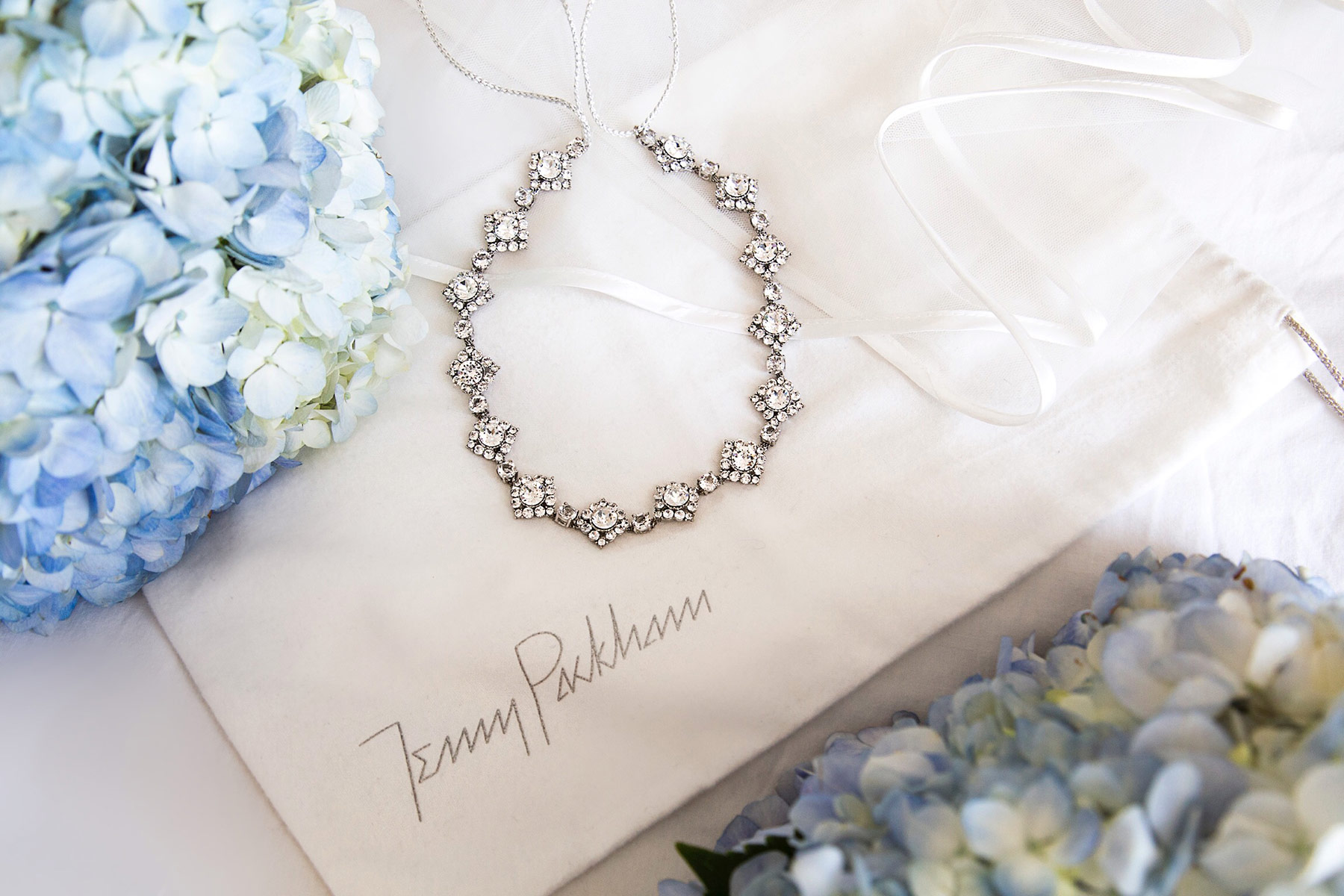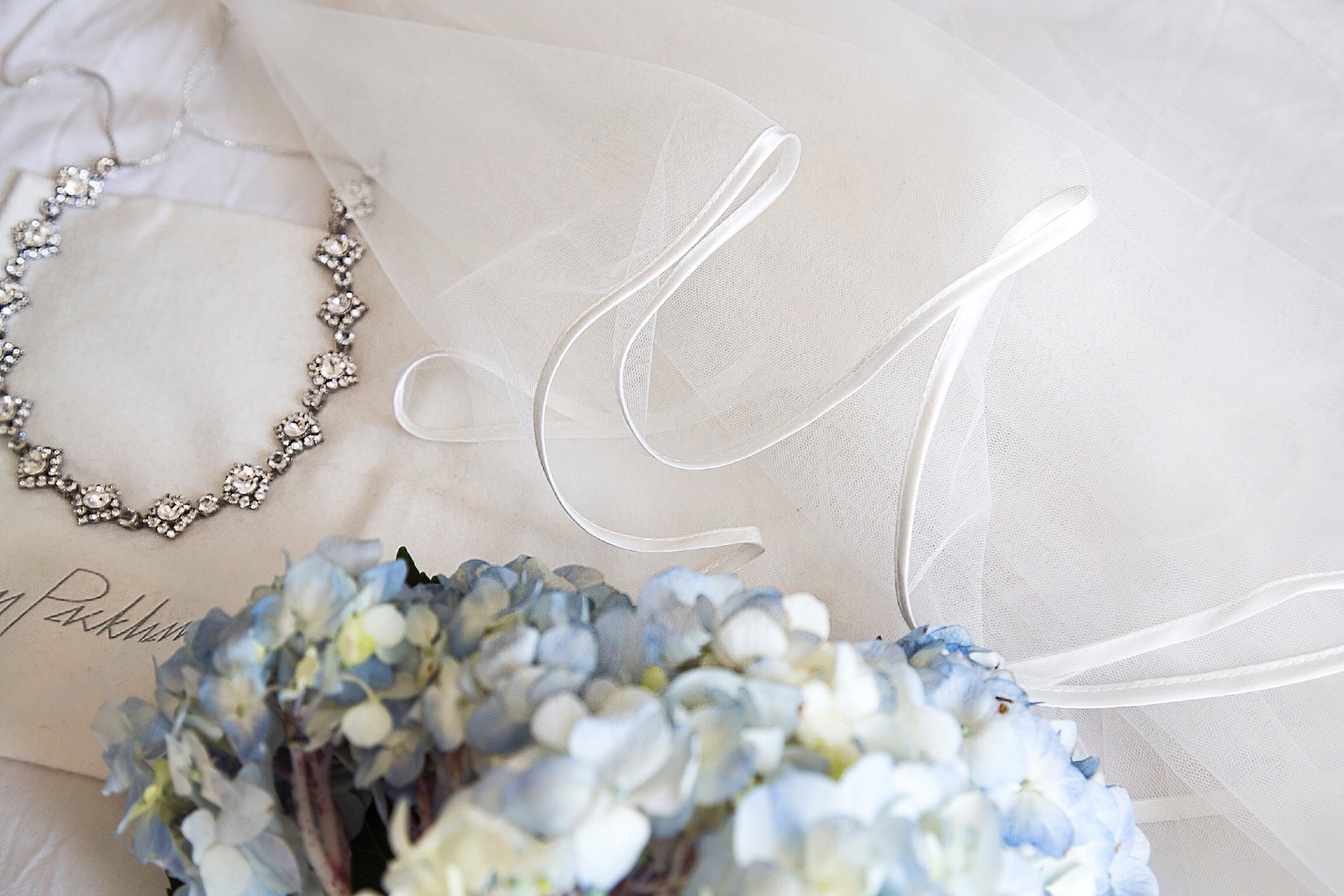 Tip: You'll want your veil to match the exact same tone of your wedding gown. Color blocking is better left to your daily outfits. If your dress has a lot going on, it's better to stick with something simple that won't steal the spotlight. If your dress is backless, choose a sheer veil rather than one with two layers of tulle. The size of the veil is also very important. Long floor-length veils elongate a petit frame but don't work well with short dresses. A short veil style like a birdcage or bandeau will work for all shapes and sizes, while they give a vintage vibe to your gown.
#3 Lingerie
Sexy is the number one feature we are looking for when shopping bridal lingerie, however being comfortable should be important too, as you will be wearing them for many hours this day.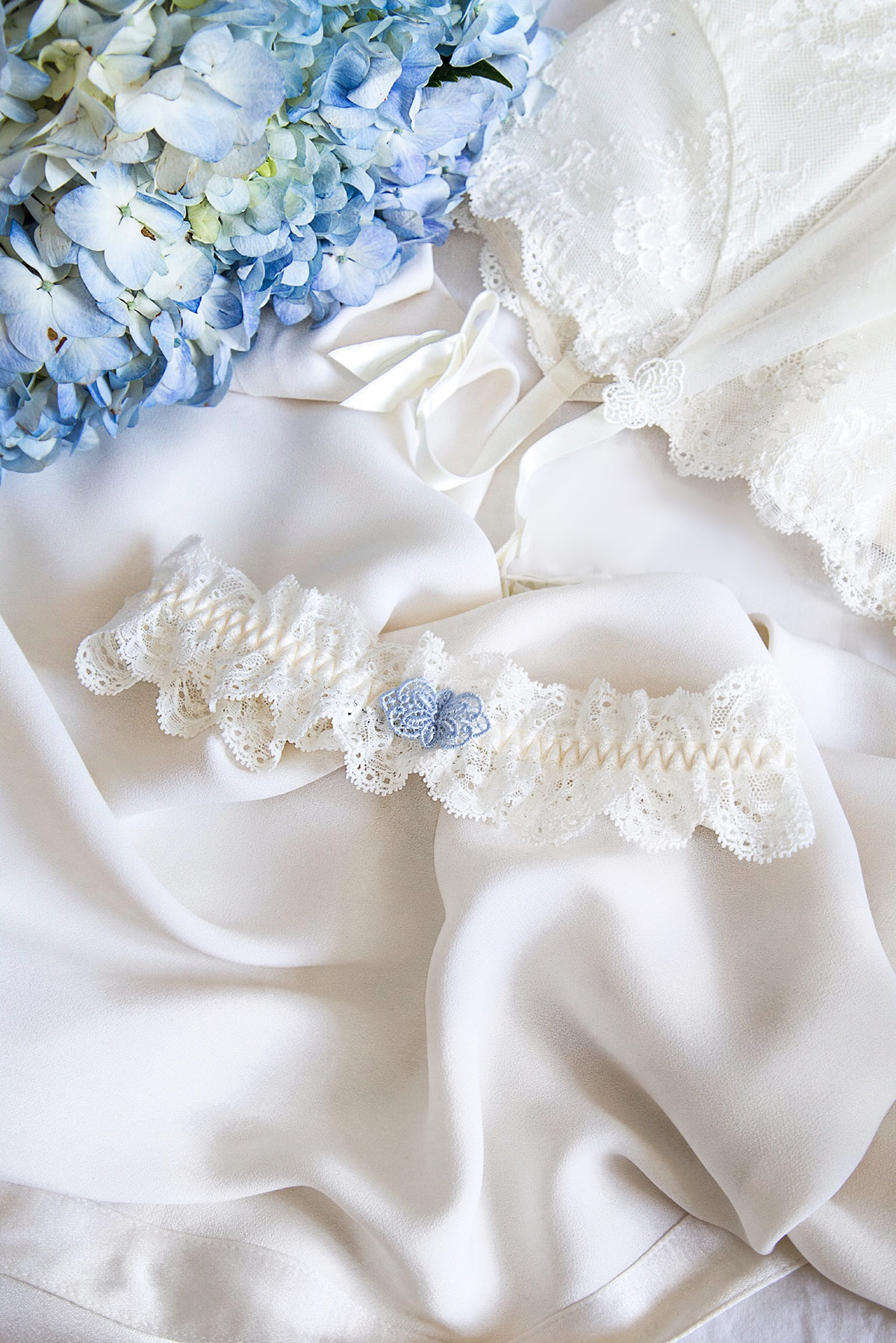 Tip: Make sure they are seamless if you'll be wearing a tight gown. And don't forget the garter. It can also be your something blue. 😉
#4 Jewellery
Bridal jewelry has to be chic and minimal. Keep in mind that some metals look better with certain dress colors. For example, ivory is best paired with gold, as it highlights the creamy tint of the fabric. A pure white dress would match better with silver (or platinum) jewelry as gold may clash with brighter white hues.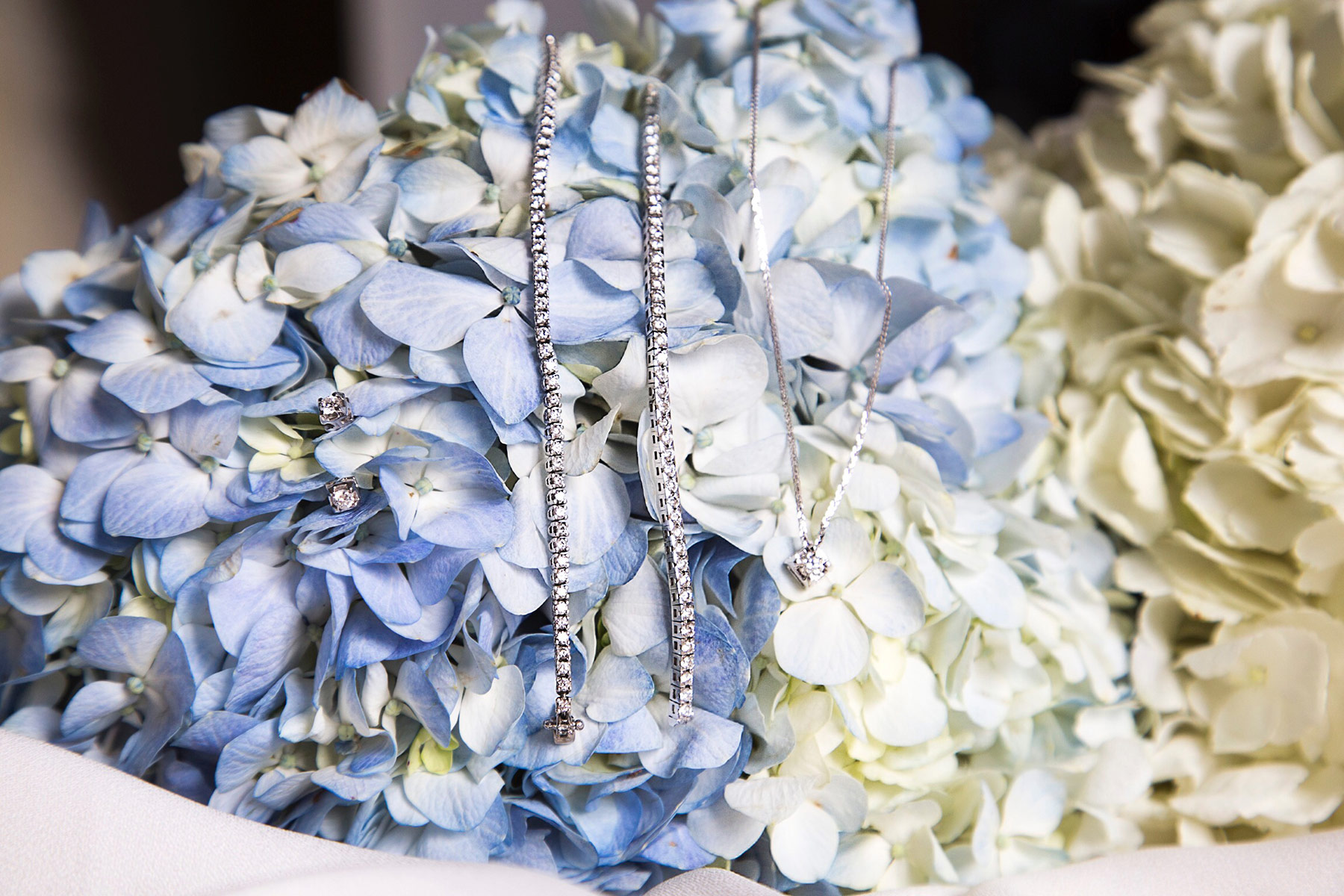 Tip: If your dress is already embellished with some beadwork, let that dictate the colors of your jewelry and accessories.
#5 Scents of the day
On the most important day of your life, you not only want to look great, you want to smell irresistible too! Perfume sets the mood on your wedding day and also acts as a powerful memory trigger. I picked One Love as my special perfume, which I had tried in Paris a year ago and knew right away this would be it. I also had some scented candles from Jo Malone going on, while I was getting ready as a bride.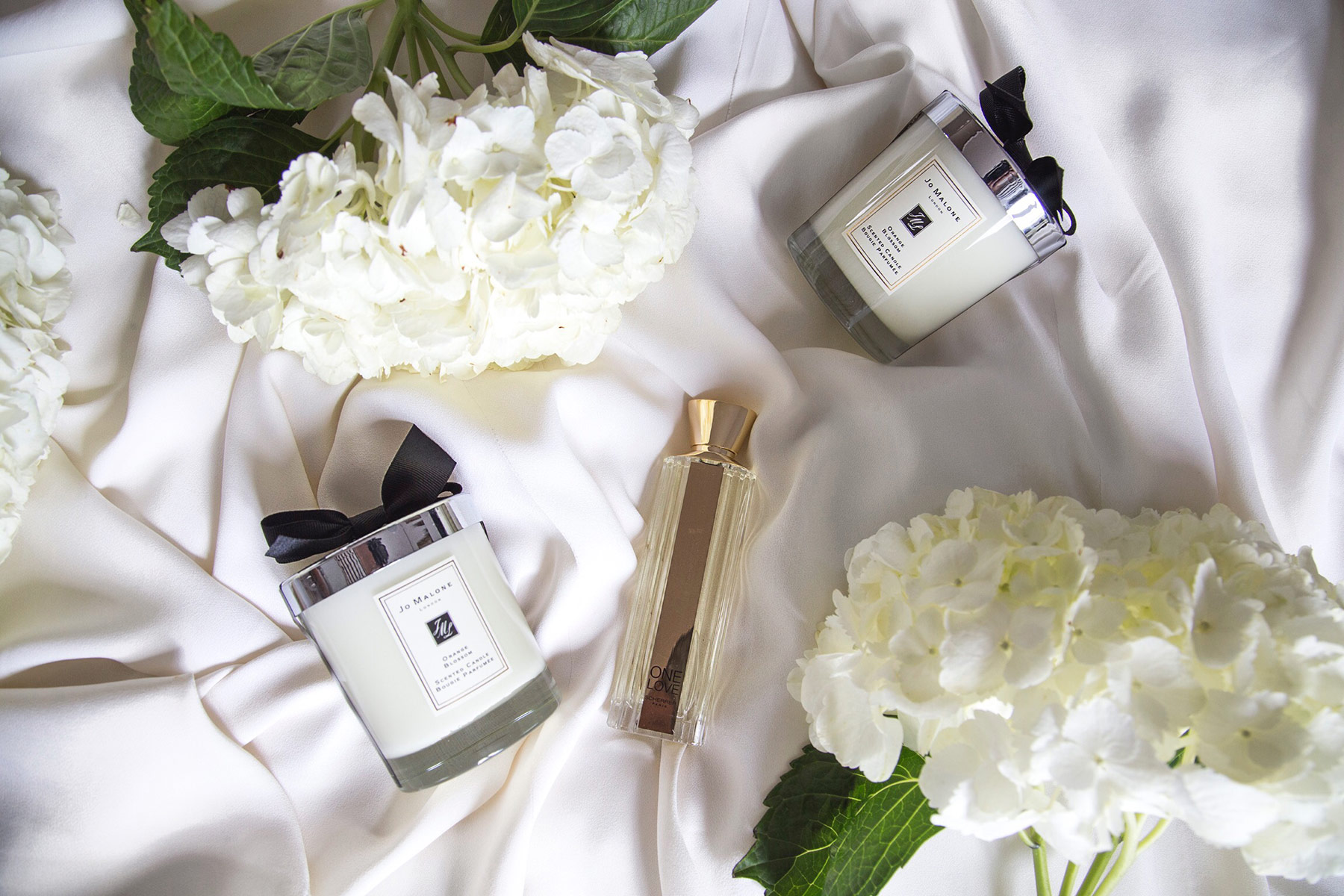 Tip: The chosen perfume should be one that compliments the bride's personal style, ceremony and season. Floral scents that are light and delicate are best for weddings as they exude emotions of love and romance. It goes without saying that you must not overdo it with the perfume.
#6 Bag
I am the girl who doesn't go without her bag even on her wedding day, so I include it in this bridal essentials list. My initial option was Chloé Nile, but as the wedding day was approaching and I was still on the waiting list, I got the Chloe Drew mini, which I wear a lot and is super versatile.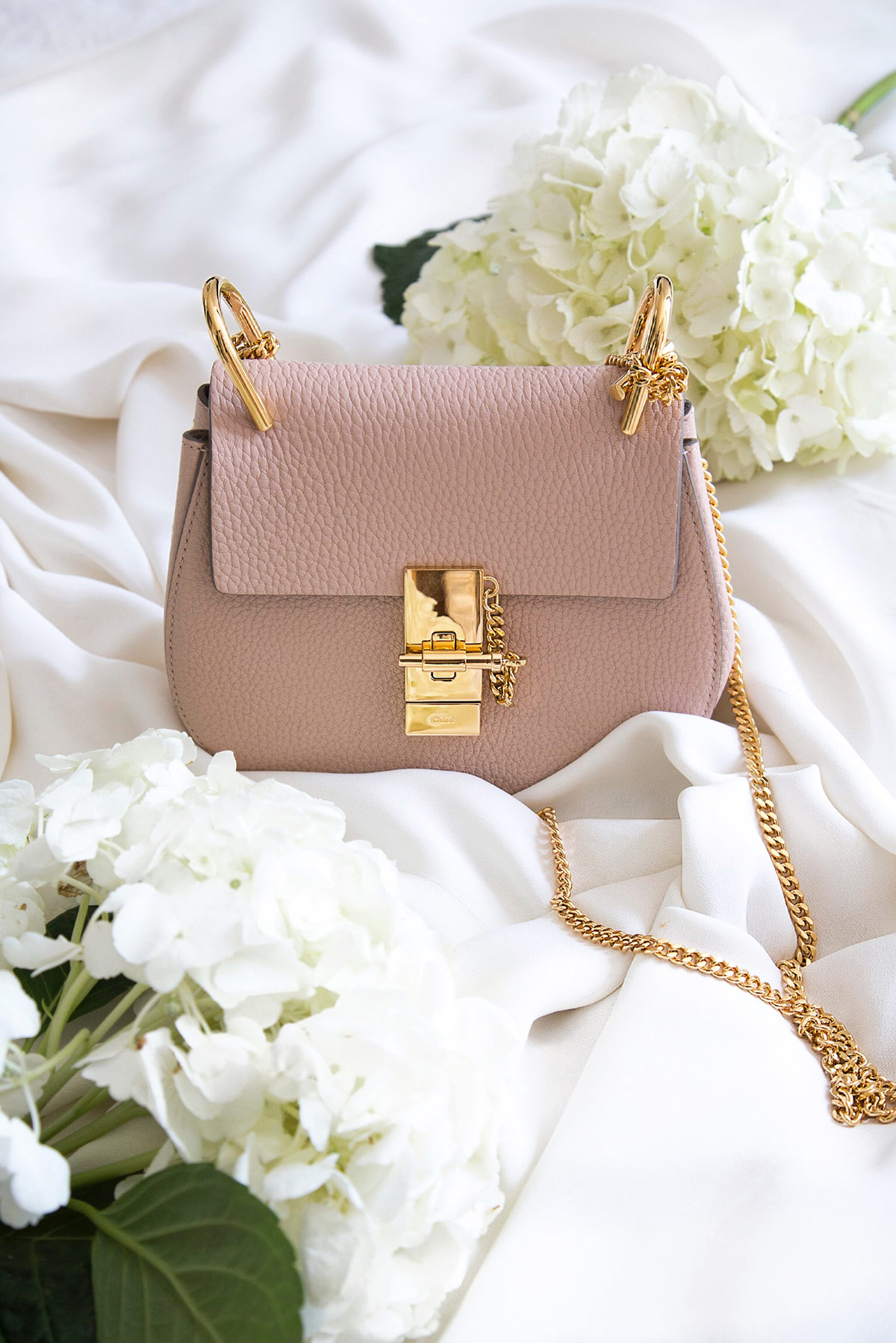 Tip: keep inside your bag some tissues, makeup kit, blotting paper, clear powder, and hair pins. See below my favorites:
Extra Tip: Remember, less is more. You don't need a tiara, a veil, a bag, a pearl necklace and a sash. Accessories do add a unique touch to the bridal look, but even one too many can be over-the-top with an already embellished wedding gown.
You can see photos and details of my wedding here.
Would you like to add something on this bridal essentials list? What's your favorite bridal accessory?
SHOP MY BRIDAL ESSENTIALS
Jean Louis Scherrer perfume